Digital Velocity Europe 2015 Generates Some Impressive Customer Data Points
Digital Velocity Europe returned to London for its third annual edition last month and our user conference continues to get bigger and better every year. Digital marketing and analytics professionals from across Europe enjoyed a day of training, learning and networking in the salubrious surrounds of the Grand Connaught Rooms in London. The numbers generated were impressive as this infographic shows: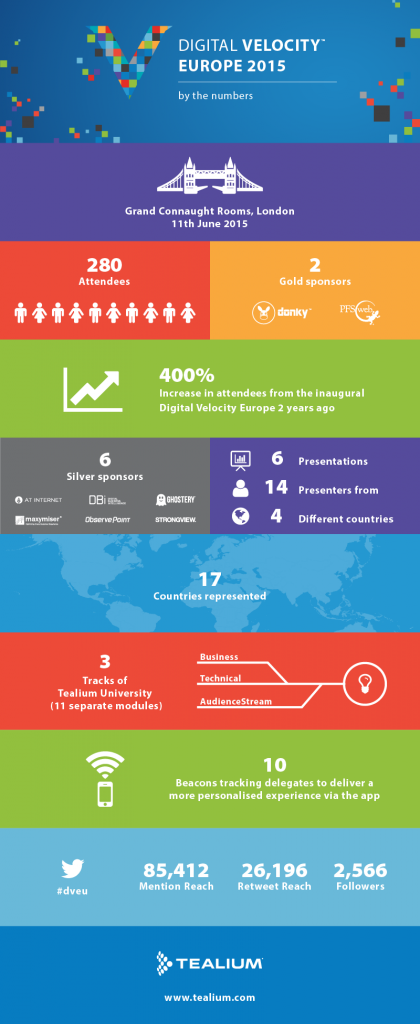 For the first time this year we introduced a Digital Velocity Europe mobile app for attendees. While the app provided standard features like the agenda, location details, floor plans and sponsor information, we took the opportunity to incorporate some innovative technologies and deliver something dynamic.
By placing iBeacons throughout the venue, we were able to track attendees' physical location, and feed that data into the Tealium AudienceStream™ solution in real-time to append existing user profile information. For instance, we could determine whether marketing professionals were more likely to gravitate toward a specific sponsor or whether those that specified wine as their favourite tipple were more likely to arrive on time.
Furthermore, powered by Tealium partner Donky, we could send messages through the app itself based on preference and behaviour, improving and personalising the user experience.
Seventeen countries were represented at the event in London (including one guest from Australia!), proving the appetite to unify data is universal. Who knows what numbers and data we can generate in 2016? I think we're going to need a bigger infographic.
***
Did you miss Digital Velocity Europe 2015? Watch the highlights below and access the presentations here.