4 Finishing Touches to Put on Your Holiday Marketing Strategy
Customers will be relying heavily on online shopping this holiday season. With online engagement at an all-time high, marketers have a tremendous opportunity to capture new customers and up-sell to existing ones.
Is your organization prepared to seize this opportunity?
We teamed up with retail and technology experts from Amazon Web Services (AWS), Braze and Quantum Metric to provide you with key strategies for holiday retail marketing success so this can be your best holiday season yet!
Key Takeaways & Timestamps: Expert Tech Panel: Last Minute Secrets to Holiday Success for Retail Marketers
To see the entire on-demand session go here.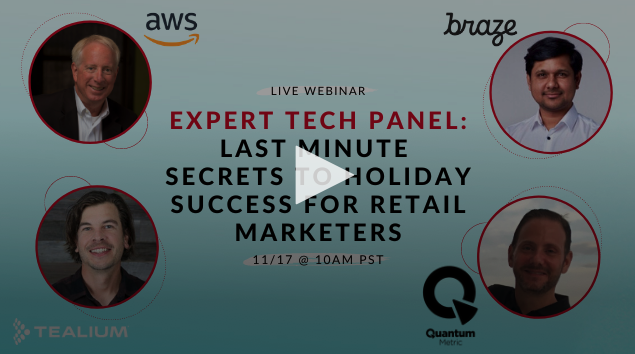 Panelists from the Live Webinar included: Tom Litchford – Head of Global Business Development in the Retail Industry at AWS, Magith Noohukhan – Evangelist at Braze, Dan Murray – Former CDO of Bed, Bath & Beyond and current advisor at Quantum Metric and Matt Parisi – Senior Marketing Manager at Tealium
What to Expect When You're Expecting a Digital Surge (1:52)
According to eMarketer, 71% of US adults said they planned to do more than half of their holiday shopping digitally this year. Mckinsey also found that 75% of consumers have tried out a new brand since businesses have gone digital. In addition, 73% of them plan to continue purchasing from these news brands even after it's safe to shop in-store again.
This means brands have an amazing opportunity to attract and acquire new customers they were unable to reach before.
However, the key to actually retaining these new customers once the holidays are over starts with understanding their expectations.
Consumers' 3 Main Expectations this Holiday Season (2:25)
Buyer's want safe experiences. Your in-store experience isn't going to be available as a backup to your digital experiences. That said, for those whose stores will remain open, it's important to make shoppers feel safe while shopping in-person. This could mean curbside pick-up, cleaning more frequently, or a maximum occupancy limit.
Buyer's expect trusted experiences. Customer expectations are higher in terms of how retailers are handling their data and how they're delivering personalized digital experiences. You need to have the right practices in place in order to safely walk the tightrope of being a good data caretaker and providing customers with the experience they want.
Buyer's expect convenience. A heavy percentage of consumers are choosing to shop at home, meaning marketers will see a dramatic increase in e-commerce. With that said, what does your shipping and return process look like?
How You Can Meet Their Expectations
See what each of our panelists believe is the most important finishing touch to include in your holiday strategy:
1. Obsess Over Your Customers (37:25)
At this point, there's not much time left (if any) for you to adjust your tech stack. Instead, focus on other components of your strategy like customer service. With so many consumers eager to try out new brands, you want to make sure you're not only in front of them, but also that you're memorable.
Start with necessities like confirming that you're able to deliver on promises like gifts with purchases and general inventory availability. From there, take the opportunity to wow these new customers because you will only get one chance to make a good first impression.
For example, your return policy and process is a great place to start. Make sure it's easy and accommodating by offering an extended deadline or a pick-up option so those who don't feel safe going to the post office to do a return are still able to.
2. Drive Consistent Cross-Channel Experiences (38:39)
In 2020, online shopping doesn't just mean shopping on the computer. It means consumers will be buying their gifts from any and all devices and channels. That means your experiences must be consistent and that you can keep up with their movement.
For example, if a potential customer adds an item to their mobile cart but moves to their desktop to finish the transaction, you need to be able to keep up as they change locations.
This presents an opportunity for you to retain new customers with a loyalty program. When your customers are checking out, give them the option to sign up for rewards with an auto-populated sign-up screen. Again, you want to make sure they stick around when the Christmas lights get taken down.
3. Prepare for the Inevitable (40:12)
With how much traffic retailers will receive this holiday season, it's inevitable that some experiences won't make the nice list. Instead of ignoring those negative experiences, be proactive by thinking through contingencies ahead of time.
For example, have an email campaign ready that apologizes for out of stock items. Or personally reach out to high-value customers and ensure them the discrepancy they experienced is being resolved.
It's also crucial to understand where consumers get frustrated on your site or what discrepancy they face in terms of product, shipping, etc. By gathering these insights, you not only can better prepare for surges to come, but it also shows your customers that you care.
4. Recognize & Personalize
With so many shoppers headed your way, it's essential to track and recognize existing customers when possible. For example, greet them by name when welcoming them back to your site or display frequent purchases to make them easier to find.
A CDP can help you keep up with the influx of shoppers by connecting all of your touchpoints to form a complete view of each of your customers. You can then use these 360º views to drive more relevant messaging and product recommendations.
By adding this personalization, customers will feel more connected to your brand and their loyalty will remain even after the holidays are over.
Want to see how Tealium can help you prepare for the holidays? Check out our Retail Marketing Readiness Holiday Tool Kit! The kit includes our complete guide to holiday success as well as retail-specific use cases to get inspired by.
Happy Holidays from Tealium!