What's in a Game of Foosball?
Marketers have approximately three seconds to grab the attention of passing traffic.  This is one of the fundamental challenges that creative marketers have when it comes to breaking through the noise.  It is important to develop innovative ways to make a lasting impact and stir up engagement. Tradeshows are prime example where competition is rife and the need to attract attention is high.
Over the last year, Tealium has been able to showcase its data collection capabilities through a myriad of things — from internet-connected devices to unconventional objects such as a foosball table. Bringing data together from every customer touchpoint is frequently talked about but rarely is it truly achieved. It is our hope that by delivering live demonstrations through something as fun and unexpected as a foosball table, passersby at DMEXCO in Cologne this week will start to think about how they can better understand how customers interact with devices in the physical realm.
The idea behind our internet-connected foosball table is to collect offline data and connect that with online customer profiles.  To get started, players can "sign in" to the foosball table using a QR code or their email address.  For those that opt-in, their foosball performance is stitched together with their online interactions into a single profile. Scores from the game are fed into Tealium AudienceStream, which badges players based on those scores. AudienceStream also triggers a congratulatory or commiseratory email to the participants once gameplay is complete.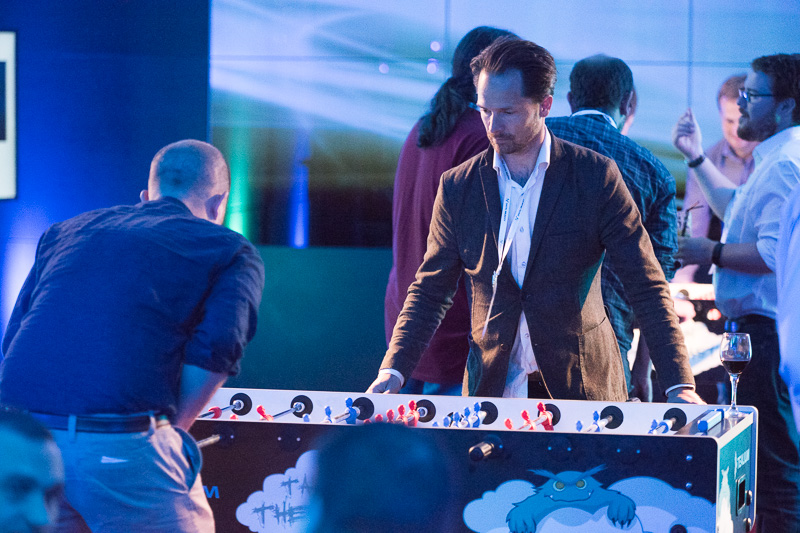 Anyone who attended Tealium's annual user conference, Digital Velocity Europe 2016, would have seen the foosball table used as part of a wider e-commerce setup.  During the event, delegates completed a number of activities such as playing a game of foosball, posting a tweet with the event hashtag or visiting some of the sponsor stands to raise credit that could be spent in 'TealMart', the souvenir store.
The foosball table was initially designed to not only serve as an enticement to a stand but more importantly demonstrate the ability for Tealium to unify physical and digital customer data. Ninety-two percent of retail transactions still occur offline, so brands need to connect the offline experience to the online one to have a true understanding of customer behavior.