Why it's Time to Embrace Cross-Device Sessions as a New Mobile Metric
Today's marketers are increasingly attracted to solutions that claim to connect visitor IDs across devices to create more holistic customer views. Clearly the need for doing so is important given the ever-growing use of mobile devices. Market researcher eMarketer predicts "…that for the first time, more than one-quarter of the global population will use smartphones in 2015, and by 2018, over one-third of consumers worldwide, or more than 2.56 billion people, will do so."
Customers are engaging with brands in a myriad of ways. The expansion of mobile devices like smartphones, geo-centric wearable devices, and smart home appliances provide marketers with both opportunities and challenges. Each customer engagement typically represents a different session, captured in disparate reporting platforms, and rarely ever correlated to represent one cross-device session or user experience. This needs to change, given the advent of new technology and processes.
Today, a traditional visitor session is defined as a group of interactions that take place on a single device within a specific time frame. This is essentially a technical construct regarding your interaction with a browser. By default, a formal session times out after 30 minutes of inactivity. If 30 minutes pass without any interaction from the user, the session officially ends.
While measuring sessions is still very important, we are now moving into the realm of needing to transcend the notion of a traditional session in order to embrace the customer engagement journey. We now need to consider a cross-device session as a new mobile metric to adequately represent the full engagement journey across multiple devices. A cross-device session should follow the same description as a traditional visitor session, but needs to take place across two or more devices.
There are two main approaches to connecting the customer journey across devices. One is called visitor stitching, which combines the separate visitor profiles into one master profile, while the other is called visitor linking, which matches IDs, but fails to truly unite cross-device profiles.
Let's use the following example to examine the differences more closely, while also highlighting why this truly matters when it comes to creating better customer experiences and proper analysis.
In the scenario below, a customer is looking to purchase something online via a laptop at work, but needs to reset his password. The retailer sends an authentication e-mail, which he opens and clicks on from his mobile phone on the train ride home to confirm his identity and reset his password. Upon arriving at home, he logs in with his new password via his tablet and finally completes the purchase. Was this three sessions? If so, does that "successful" visit on the tablet tell the full story? Of course not, which is why visitor stitching is so important. It tells the complete story.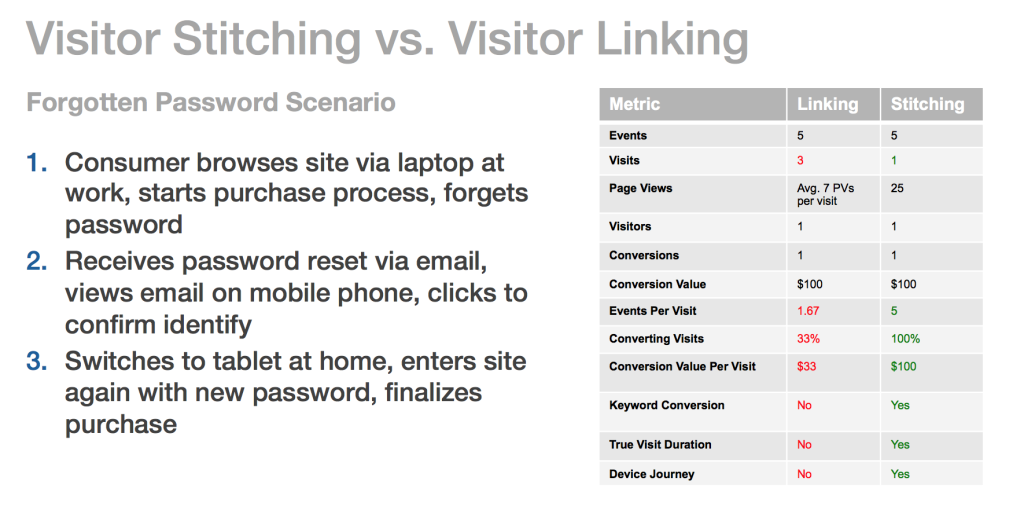 While visitor stitching is the new "it" buzzword, most companies are only achieving visitor linking. It's important to understand the differences.
Visitor linking reflects the current analytics paradigm of having to collect data in multiple systems, and then try to piece it back together for holistic reporting and action. The explosion of mobile devices only makes this harder. In fact, a UK study has shown that consumers switch between devices (including desktops and laptops) as often as 21 times in a single hour! Marketers and tracking solutions treat these engagements as multiple visits/visitors, instead of a single session across devices. While tracking individual sessions still has value, there is a growing need to understand a cross-device session, but doing so can be daunting.
Visitor stitching, on the other hand, enables marketers to collect, correlate, and calculate the full customer experience across all of the visitor touch points and devices – therefore creating a cross-device session. It's also critical to be able to automate the ability to take action on that data in real time. Tealium pioneered the ability to do just that, therefore seizing the full breadth of activities, affinities, customer IDs, etc., while creating a super visitor profile that assigns value to the calculated culmination of engagements in real time.
In the image above, the scenario, if tracked and calculated correctly, should denote 1 visit, with 5 events tracked over three devices and one purchase. Using visitor stitching, Tealium transcends the need to link together disparate data across devices, making enriched data available immediately. Visitor linking typically leverages batched 24-hour (or more) latent data, making real-time personalization and remarketing nearly impossible. The proliferation of devices compounds the data supply chain problem.
The Tealium AudienceStream™ real-time enterprise data platform can collect data in real time; correlate all event and visitor-level touch points; stitch visits across devices; and calculate the full scope of engagements on the fly to reflect the true incremental value of that customer. This 360-degree composite customer profile can be enriched with marketer-defined attributes, such as creating a VIP customer badge, in order to label the value of all of those activities, and place customers in appropriate segments for taking action.
Realizing true visitor stitching is paramount to agile and effective marketing. Having the means to identify visitors across devices and engagements without having to waste time collecting, correlating and making that data actionable, dramatically speeds up the data supply chain within your organization. For example, testing and optimization provider Optimizely can provide a targeted banner on-site based on the immediate knowledge that a visitor has just gone from a regular customer to a VIP customer due to a recent purchase on their smartphone. This level of responsiveness, based on real-time cross-channel activity, was unheard of until now, and could easily translate into increased sales and improved customer loyalty.
When customers browse content and products on their smartphone, those behaviors and preferences can be provided to CMS platforms on the fly, helping to personalize content to a customer who is ready to finalize a purchase on their desktop, thus leveraging previous browsing affinities/recommendations across all experiences. If the customer abandons the shopping cart on their desktop, a mobile push notification can be triggered through AudienceStream, alerting the customer of a 20 percent off incentive if they finalize the purchase.
The list of use cases for connected experiences is virtually limitless. The power is in the availability, richness and real-time nature of the stitched data, plus the automated ability to send it to revenue-oriented action engines, such as email, push notification, DSPs, CRM systems, call centers, and more.
More than ever, marketers need to make sure they can stitch – not simply link – together the customer journey across all digital touch points using the right technologies. Being cognizant of the importance of cross-device sessions will create more accurate reporting, save time, and increase efficiencies. It also allows marketers to take action on data in real time and realize unified marketing across channels/devices. Expect this to be a big focus for companies looking to harness the mobile world.