Search Retargeting and Tag Management: 7 Questions with Chango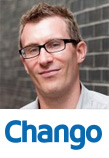 Editor's Note: This is part of an ongoing interview series with many of the 350+ major solution vendors that are integrated into the Tealium tag management platform on a turnkey basis. This week, we interview Ben Plomion, VP of Marketing at Chango, which provides an advanced search retargeting platform for advertisers. Learn more about Tealium's turnkey vendor integrations across multiple categories. 
1. What is search retargeting and what are the core benefits?
In most cases, when a web marketer is talking about retargeting, they're really just limiting the discussion to web site retargeting. Site retargeting enables marketers to talk to site visitors who haven't converted yet. For example, a company can show a display ad to remind a site visitor about that nice watch they were thinking about purchasing.
Search Retargeting is different. When a user performs a search on any major search engine, what they are really doing is raising their hand and telling you exactly what they want. This is where search retargeting comes in. Simply put, when a browser searches for a keyword relevant to your business, Chango's system anonymously remembers that search term and targets the right user with a display ad based on their search terms. Therefore, with search retargeting, you can actually engage those users who have not yet visited your site, but have searched for terms related to your product. For example, you can target a user who has recently searched for vacation ideas with a display ad for a cruise to the Caribbean.
2. What is the biggest misconception about search re-targeting?
The biggest misconception is that retargeting is one tactic and can only be used to target visitors to a given site. There are, in fact, 7 types of retargeting. Search retargeting is effectively a prospecting tool and does not require that users visit an advertiser's site.
3. Who is your target audience? Can you give us a quick use case study?
Our clients are agencies and brands. Typically they are media planners looking to prospect for new customers. We work with companies such as French Connection UK or iCrossing on the agency side. Our campaigns have historically been on the direct response side, but this is changing as we see more marketers use search retargeting for branding goals. We recently ran a campaign to promote LOL The Movie where the agency wanted to raise awareness for the movie.
4. How would Chango benefit an online retailer during the holiday season?
Search retargeting is a highly effective prospecting tool for new consumers during the holiday season. Because we sell on a dynamic CPM basis, retailers can often see better returns compared with SEM campaigns, where the cost per click (CPC) rate is traditionally higher. In highly competitive segments such as electronics, we have seen some of our retailers save up to 96 percent on CPC. More importantly, we run our campaigns based on client's goals and routinely hit 10 percent ROAS.
5. What are the biggest challenges facing Chango and the retargeting industry?
Education of our clients is the biggest challenge. Retargeting is probably the least understood marketing tactic by both brands and agencies. That being said, our recent Search Retargeting Barometer has shown that clients are becoming smarter. Some of them now have dedicated retargeting budgets that span across site, search retargeting and others.
6. How does Chango work with tag management systems like Tealium?
We love when retailers have a tag management system. It makes it easier for marketers to add and update tags for retargeting vendors like us. This is especially important during IT lock-down periods like the run-up to the holidays. Many of our clients freeze their web site code in that time of the year, and tag management systems like Tealium enable us to continue placing pixels on their sites.
7. Tell us something that people don't know about Chango?
Chango is the largest Demand Side Platform (DSP) people have never heard of. A DSP allows digital advertisers to manage multiple data exchange accounts through one interface. A popular measure in this industry is to look at the number of media bids per second. Ours is 350K per second. By comparison, Twitter peaks at 10-20K tweets per second.
We made a brave decision when the company was established to create our own DSP. Having a good grip on both data capture and media buy is critical to the success of search retargeting. In addition, we are now the second largest of search data after Google, with more than 6 billion search terms collected in the US only.