Google Analytics Quick Win Segments for Lead Generation Sites
Google recently announced a major upgrade to Google Analytics. The new version now includes features and functionalities once available to high-end solutions. Among these new features is the Advanced Segments functionality which lets users create complex segments using a drag-and-drop interface. In order to help users get started, Google has already included a number of pre-defined segments such as "New Visitors", "Returning Visitors", "Search Traffic", "Direct Traffic", etc.

The pre-defined segments should greatly increase user adoption of this functionality. At the same time, users will be able to further extend the value they get from the tool. We're going to outline some additional segments that can further add value. For this post, we're going to concentrate on lead generation site types, whose goal is to generate leads for the sales team that are eventually closed off-line.
Note: These segments are also applicable in other web analytics solutions, even though the examples are provided for Google Analytics.
Some quick win segments that you can get started with are:
Form Page Visits
Form Abandonment Visits
Engaged Visits
Highest Value Conversions
Form Page Visits: One of the pre-defined segments in Google Analytics is "Visits with Conversion". As long as you've defined your site goals in Google Analytics, this segment will filter out visits where a goal event has occurred. The segment will let you identify your most effective acquisition sources for example. However, you can take Google Analytics to the next level and define a segment based on visits where your site visitors hit the form pages (just before the conversion). Why? People who make it to the form pages are also considered as qualified visitors, even though they don't fill out the forms. This segment will also let you identify your best acquisition sources, whether a conversion occurs or not. This segment can be created by selecting the dimension "Page" from the "Content" list and typing in the name of your form pages. If you have multiple form pages, you can add them by adding an "or" statement.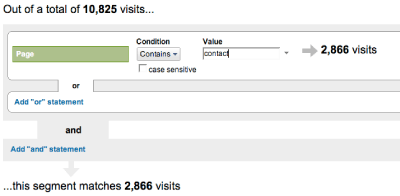 Form Abandonment Visits: This segment will filter out visitors that make it to the form pages but do not complete the process. This segment is valuable because it lets you identify where you're leaving money on the table. This segment will consist of two filters. The first one is similar to that used for the "Form Page Visits" segment. The second filter is using the metric "Total Goal Completions" and setting the value to equal zero. The relationship between the two filters should be an "and" statement.
Engaged Visits: Regardless of whether your visitors convert or hit the form pages or not, you're still interested in how they consume your content. The "Engaged Visits" segment lets you filter out the site visitor that are engaged in your content. An easy way to do this is to start by your average number of pages views per visit and time on site. You can then build a segment with two filters. The first filter is by selecting the "Pageviews" metric and making sure that it is set to a value greater than your average. The second filter ("and" statement) uses the "Time on Site" metric, as shown in the figure below. You can take also this segment to the next level by adding recency into the equation. Eric Peterson has recently posted about this very topic, and we recommend his approach for media sites. For lead generation sites a simplified engagement approach should suffice.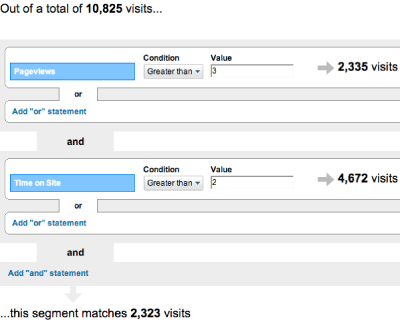 Highest Value Conversions: Not all web leads are created equal. For companies that offer only one product or service, this may not be an issue. But for many lead generation sites and companies that offer multiple products, this will be of importance. For example, you may have a free and a paid version of your product. In that case, you would be more interested in visits that result in a lead for your higher-end products.
In some cases, this may be an easy segment to build if your conversion pages for your various products are different. Often times, you're using the same form page to capture leads for all your products. In such cases, we recommend that you allow visitors to choose which products they're interested in form within the forms and capture the user selection in Google's User Defined variable. By doing so, you can then build a segment based on the "User Defined Value" dimension under the "Visitors" group. The new segment will then allow you to determine where to target in order to capture leads for your highest value products.