Tag Management Console
Tag Management has arrived. While attending this year's Google Analytics Certified Partner (GACP) Summit, one of the topics of discussion among attendees was universal tagging and tag management. This of course is great news as it validates our vision dating back to 2008, as we first introduced universal tagging for web analytics.
What was once a vision and a consulting project here at Tealium is now a topic of discussion at web analytics conferences, including the upcoming X Change. And as marketers' knowledge of universal tagging increases, so does the product's maturity. A key requirement has been the ability for business users to manage their tags without IT involvement.
Enter Tag Management Console.

The Tag Management Console is the admin console for Universal Tag Deployments. Within the Console, non-technical users can manage their tag using a drag-and-drop interface.
Want to add DoubleClick tags to your site? Simply drag the DoubleClick icon and enter your account ID.
Want to add Google Analytics? Drag the Google Analytics icon and enter your account ID.
Want to add Eloqua tags for better lead nurturing? Well, you get the idea.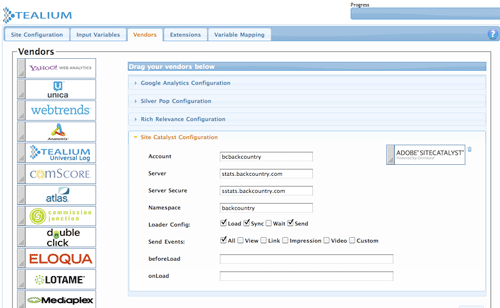 Once configured, users can add, edit and delete their marketing tags and manage complex implementations such as changing mappings from one vendor variable to another. Again, all this is done without straining valuable IT resources, meaning that you can make changes to your tags in hours or days instead of weeks and months.
Best of all, the Tag Management Console is now available to all Tealium Universal Tag customers and Certified Partners.
Contact us to schedule a live demo of Tag Management Console.