Webinar: Managing Continuous Change – Responsive Design and Tag Management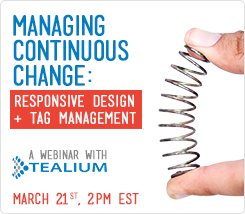 As e-commerce technology continues to evolve, digital marketers are increasingly turning to tag management for a seamless way to manage their third-party vendors, and maximize online marketing effectiveness.
Managing vendor tags has become one of the biggest challenges in digital marketing today because it is so costly and time-consuming. Marketers are often at the mercy of IT to launch new campaigns or make changes to existing ones, ultimately hindering workflow agility and sapping valuable resources. Have you tried to launch a new vendor and were told that it wasn't "priority" or missed deadlines because of your dev cycle? Read on.
Tag management allows digital marketers to better manage their tags — and the exchange of digital data —  without requiring ongoing IT assistance or JavaScript knowledge. This allows marketers to respond faster to the insights provided by their tags and launch more revenue-generating campaigns quicker and easier than ever.
In addition to their online solutions, digital marketers also need to be able to respond quickly to the ever-evolving ways customers interact with their web site, and design a site that works equally well on any device – whether that be laptop, smartphone, tablet or whatever new trendy device comes to the hands of the visitor.
To learn more about these important trends, join us for our webinar "Managing Continuous Change: Responsive Design & Tag Management" on March 21st. Sponsored by Tealium partner CrossView, a leader in providing cross-channel commerce solutions and services, this 45-minute webinar will feature Jay Atkinson and Jenny Elliott of Crossview, along with Sean Browning, Vice President of Channel Sales and Partnerships at Tealium.
In this webinar, you will take away:
What is driving the need for tag management, and how does it work
How tag management specifically benefits e-commerce sites
How e-commerce marketers are using tag management to drive better results
How to future-proof web design and make it more fluid and adaptable – regardless of how customers interact with your brand
How to create a more cohesive brand, everywhere
Why Mashable.com says 2013 is the "Year of Responsive Design"

This free webinar will take place March 21 at 2 p.m. ET – space is limited so sign up today!