Enterprise Data Storage, Lakes, Warehouses and More: A Crash Course
消費者は、複数のタッチポイント、チャネル、デバイスにわたってブランドと関わり、価値の高いデータを大量に生み出しています。企業は、数多くのソリューションを速やかに採用して、顧客データの爆発的な増加に対応し、ユーザーの行動を深く理解して相関を把握しています。
Two common solutions brands are leveraging to house and analyze all of this customer data are Enterprise Data Warehouses (EDW) and Data Lakes.
Ted Sfikas, Director of Solutions Consultants, North America and LATAM at Tealium, recently did a webinar on "Enterprise Data Storage, Lakes, Warehouses and More: A Crash Course."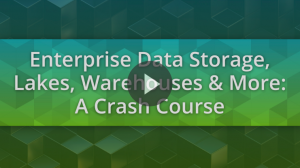 Watch the on-demand webinar and learn:
Key benefits of each type of data storage and which is best for your brand

Why pairing your enterprise data storage solution with customer data initiatives makes your tech stack even more powerful

How an automated data supply chain fits in a modern EDW and data lake environment

And more!
Watch the on-demand webinar and take a crash course on enterprise data storage solutions today!