製品
Tealium AudienceStream
Tealium's industry leading customer data platform enables organizations to create an actionable single view of the customer across all touchpoints and business teams. Harness known and unknown customer data from everywhere and use that data to drive experience anywhere, in real time.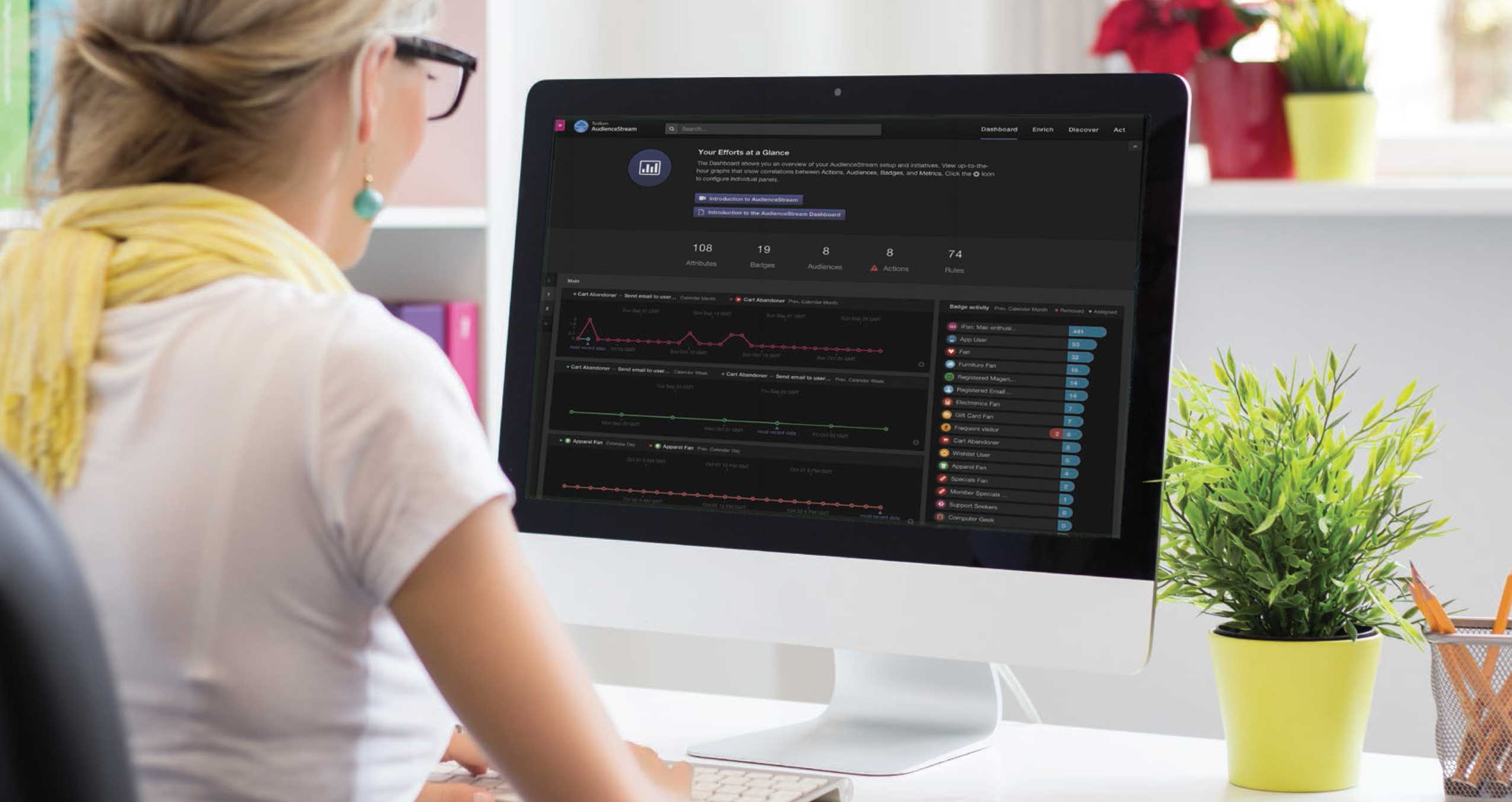 Increase campaign effectiveness by targeting high-value audience segments and excluding low-value audiences
ターゲットを絞ったマーケティングにより顧客獲得コストを低減
現在ウェブやモバイルのチャネルにいる顧客とのよりスマートなインタラクションを通じて既存の関係を最大化
Create a unified customer profile to drive customer experience delivery
オーディエンスの行動に基づき、自動化されたマーケティングアクションをリアルタイムにトリガー
What is a Real-time Customer Data Platform?
A real-time customer data platform focuses on influencing visitor activity leading to conversion, retention and loyalty by using powerful, enriched first-party visitor data in true real-time. The power of a real-time customer data platform goes well beyond traditional data management platforms that specialize in third-party, anonymous data and suffer from data accuracy and latency issues.
The Tealium AudienceStream™ real-time customer data platform makes it easy for you to do something remarkable: deliver timely, personalized customer interactions across any digital touch point. Use AudienceStream to create highly granular, persistent unified customer profiles of your visitors; enrich these profiles with powerful additive data; and then leverage the data anywhere within your marketing technology stack to trigger real-time marketing actions.
Get a True Single View of Your Customer
The integration between AudienceStream and Tealium iQ™ enables digital marketers to correlate audience-specific data across all digital touch points, providing a comprehensive view of your customers. This universal profile can be used to personalize content in real time and dramatically increase results. For example, create a segment around visitors who seem lost—such as those conducting searches or engaging in live chat—and promote your self-service knowledge base to help them find what they need.
収益を上げるためにアクションを実行
Using powerful data connectors with major digital marketing vendors, AudienceStream lets you orchestrate your existing marketing initiatives and create automated marketing actions based on real-time user behavior. This includes vendor integrations with e-mail service providers, retargeting solutions, display advertising, and more.
また、エンリッチメントされたデータを訪問者のブラウザに送信して、サイトのパーソナライゼーションツールとの統合することもできます。たとえば、オーディエンスのアフィニティやコンバージョン傾向に基づいてホームページのコンテンツをパーソナライズすることができます。
データ統一がもたらす力
Comprehensive data integration is needed to fuel all of your customer experience efforts across web, mobile, offline and off-site customer data. Traditionally, marketers and data analysts have been forced to create data integration projects that are costly, time-consuming, siloed and prone to failure.  AudienceStream puts the power of an advanced data warehouse in the hands of digital marketers and all data stakeholders, who can easily create and leverage high-value customer data via intuitive, graphical controls.
オフラインのデータソースを統合
AudienceStreamにより、コールセンターのデータやPOS情報などのオフサイトまたはオフラインのオーディエンスとブランドのインタラクションについてのデータを収集し、相関付けてオンラインデータに追加することで、顧客について360°のユニバーサルプロファイルを作成できます。このようなユニバーサルプロファイルは、関連性や顧客の獲得キャンペーンや保持キャンペーンの効率を劇的に向上させるために使用可能です。
訪問者プロファイルのエンリッチメント
AudienceStream は、マーケッターが定義した強力なビジネスルールを通じて、訪問者データを経時的に拡張可能な、インサイトのための生きたソースに変えます。コンテンツのアフィニティ、リードのスコアリング、顧客の生涯価値などの新しいプロファイル属性を定義することで、事業に最適なメトリックを制御することができます。
すべてをリアルタイムに
Many businesses struggle to obtain fresh visitor data from their vendors or legacy data processing infrastructure. AudienceStream provides true real-time data collection, segmentation, enrichment and live delivery of highly actionable customer data at a fraction of the cost of traditional data warehouse solutions. Real-time collection and correlation enables you to leverage real-time insights and create automated marketing campaigns based on up-to-the‑second audience behavior.
クロスデバイスなVisitor Stitching
Tealiumは、訪問者IDと訪問者が使用する複数のデバイスをどのようにマッピングするか、という多くのマーケッターに共通する課題に取り組んでいます。TealiumのVisitor Stitching技術をを使用すると、カスタマージャーニーを消費者が使用するすべてのデバイスにマッピングし、キャンペーンの計画や分析に不可欠な統一ビューを得ることができます。
訪問者、訪問者の行動、そして彼らが使用するデバイスをまとめると、AudienceStreamを使用して主要なインサイトを使用してアクションを起こし、タブレットで開始してユーザーのデスクトップコンピューターに続いていくユニークで魅力的なオムニチャネルキャンペーンを作成することができます。Tealiumは、Facebook、Amazon、Twitter、LinkedIn、Google Plus など任意の既知のIDを使用して、複数のデバイスにわたって訪問者の行動をトラッキングできます。
主要なマーケティング技術へのライブコネクタ
Ultimately, rich visitor insights are only valuable when leveraged for timely, relevant interactions. AudienceStream supports a number of live integrations to best-in-class email, marketing automation, online advertising, and customer relationship management (CRM) systems. These live conduits share rich visitor data with the technologies you already use for engagement and nurture of your key audiences.
クロスチャネルの遅延アクションと頻度キャッピング
リアルタイムマーケティングは強力ですが、あえてアクションを遅延させるべき場合もあります。たとえば、カゴ落ち直後にEメールでオファーをしても、顧客にとってそれが早すぎれば望み通りの反応につながらない可能性があります。代わりに、AudienceStreamの強力なアクションキャッピングと優先度付けの機能を使用して、顧客に対するアクションを遅延させたり、頻度キャップを設定することも選択できます。
Resource Type: Datasheet
Topic: Customer Data Platforms
Product: AudienceStream Customer Data Platform