WHITE PAPER
How to Solve the 4 Biggest Data Problems from the MarTech Explosion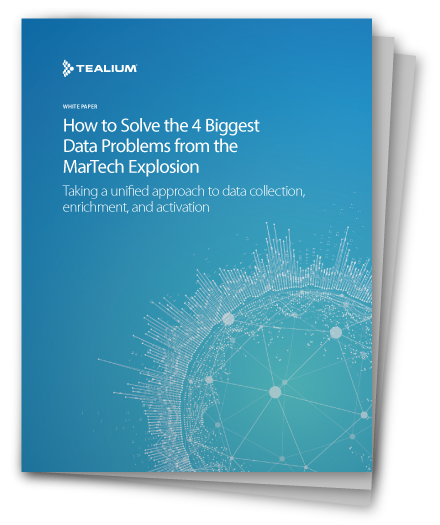 A UNIFIED APPROACH TO DATA COLLECTION, ENRICHMENT AND ACTIVATION
Marketing technology industry analysts report that the MarTech solution landscape has grown in excess of 2,000% in just the last 5 years, with 87% growth (over 1,600 solutions) from 2015 to 2016 alone. This is a staggering pace compounded by uneven adoption leading to operational inefficiency, siloed teams, loss of consumer trust and legal risk and, worst of all, a disjointed customer experience.
Yet, very few companies have tackled the pervasive and looming underlying issue created by this proliferation– the lack of a unified data strategy.
Download our white paper to learn about:
Gaps in customer experience created in the absence of a data strategy – It is nearly impossible to create and deliver relevant messages without a universal customer-data strategy across vendors and channels.
The internal costs created by disconnected data and tools – The gaps between marketing technologies and the data they leverage, left unaddressed, spread throughout an organization
How a unified approach to data supports internal and external organizational effectiveness – Cross-organizational collection, access and activation of the company's most powerful, comprehensive data set has far-reaching benefits.
Data is the foundation upon which your customer experience is analyzed and activated. A fragmented and disconnected data supply chain leads to fragmented customer experiences, siloed teams and an incomplete view of your customer.
Looking forward to IoT, artificial intelligence and machine learning, the importance of your data strategy grows by the day. Companies that take a universal approach to data will immediately fill organizational and customer experience gaps, while laying the data infrastructure critical to competing in the future. Download our white paper today to get started.
Download the full Report
Fill out the form below to get your free copy of this comprehensive report.
Resource Type: Whitepaper
Topic: Customer Data Platforms, Data Orchestration