Increase Brand Trust: Understanding 7 Key Views Consumers Have On Their Data
The GDPR 2018 brought a once-in-a-lifetime change to the legal basis on which individuals share their data with organizations. Brands are ensuring that their data-driven practices are in line with the regulation, but what do consumers think of the new law? How do they expect their data to be used and do they intend to exercise their new rights?
Lindsay McEwan, General Manager of EMEA Tealium, recently did a webinar on "Increase Brand Trust: Understanding 7 Key Views Consumers Have On Their Data."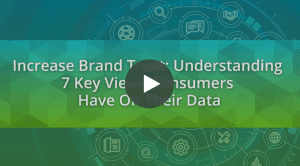 In this webinar, Lindsay gave us a behind the scenes look into how aware consumers are of the way data is collected from their mobile and digital footprint, as well as how businesses rely on these data streams to deliver personalized services and a better customer experience. This behind the scenes look was a result of a research project Tealium partnered with Data IQ on that focused on understanding the consumer's perspective on data collection, consent, context, and control around data privacy – before and after GDPR.
You can find key takeaways below:
Whether you view data as the new oil or as the beginning of the fourth industrial revolution, its relevance in today's world is hard to deny
Click To Tweet
The Future of Data is More Accessible
Robotic process automation will reshape customer experience

The exponential growth in robotic process automation (such as Machine Learning and AI) will give companies the ability to combine scenarios, increase understanding, and make real-time predictive decisions about their customers' needs and behaviors
This Webinar Examined 7 Key Consumer Views
Attitudes towards sharing personal data

Awareness of data protection law

Mobile and digital tracking

Experience of mobile and data-driven services

Rating of mobile and digital experiences

Personalization

Expectations of cross-device tracking
Let's explore the first view in more detail, what consumer attitudes are around sharing their personal data.
Consumer Attitudes Toward Sharing Personal Data
People are realizing that they have to share data in order to participate in today's digital economy, and in fact, we are seeing growth from 2017 to 2018 in consumers who are more willing to share personal data if they trust the company and if the need of "why" they need to share their data is explained in detail.
30% of consumers regularly review, update and delete personal information available to brands
Click To Tweet
The data that was uncovered from the Tealium and Data IQ research showed that the younger consumer demographic are extremely agile in their ability to quickly switch loyalty and favoritism between the brands they interact with, however, organizations have a limited number of engagement opportunities with this demographic to get it right. Older demographics, on the other hand, prefer to have a lot of different options and products offered to them because they prefer to choose from a wide network and then narrow down from there for their final choice. But the one thing that remains true for both demographics – consumers want personalized content.
To get more key insights and takeaways on the other 6 key views consumers have on their data watch the on-demand webinar and learn:
Pivotal changes to the data landscape

7 key findings from consumers on how they view their own data

Key strategies and steps to dramatically improving consumer brand trust

And so much more!
Watch the on-demand webinar and start increasing brand trust by understanding the 7 key views consumers have on their data today!