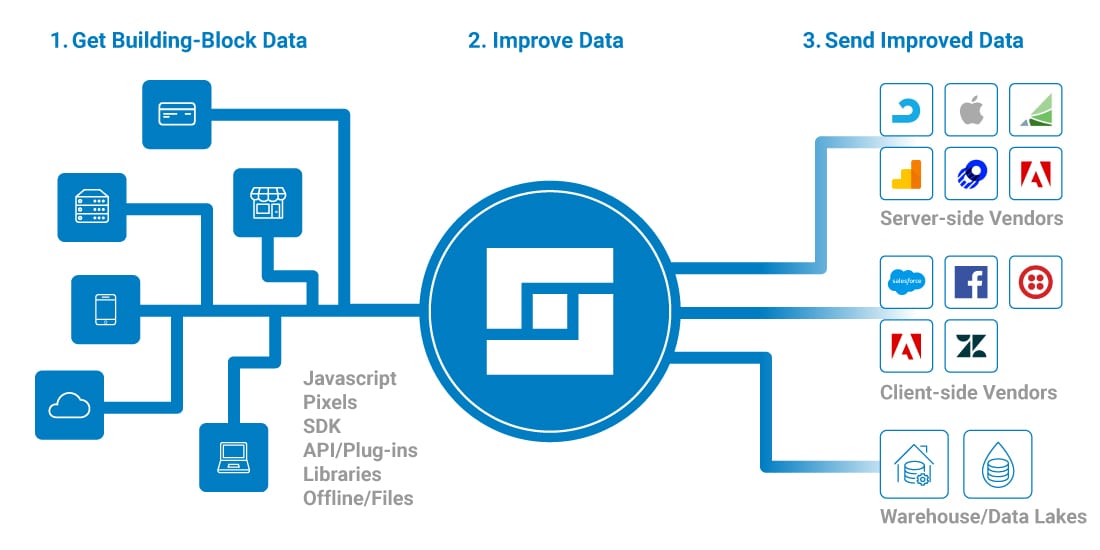 Get Building-Block Data and Normalize
Collect and Standardize

Get Data from Anywhere and Map to Your Data Layer
Collect data from traditional sources using javascript, tags, pixels, etc.
Collect data from other devices (like mobile, IoT, etc) with platform libraries, SDKs, APIs, etc.
No matter the source or method of collection, map data to a common taxonomy.
Import offline data
Supplement online data with valuable offline data from in-store, data warehouses, data lakes, etc.
Build Customer Insights Directly into the Data
Transformation and Enrichment
Set up a Customer Data Platform to Use Data Across Your Stack
Create a rich and portable customer profile to trigger actions in downstream systems or power further analysis of the data.
Validate and Maintain Data Quality
Solve the "garbage in, garbage out" problem by ensuring a high-quality data flow with specifications and tools to inspect data.
Didn't Find What You Were Looking For?
The Tealium Universal Data Hub has far more features, capabilities and use cases than can be described in this space. Should you have further questions, please check out our product tour, our active user community or our full documentation.
And please don't hesitate to contact us and we'll follow up ASAP to get you pointed in the right direction!