How CDPs Help Marketers Adjust to Change: Key Findings
2020 was quite a year of change for the world, especially marketers. The announcement of third-party cookie loss coming in 2022, the California Privacy Rights Act (CPRA) that came with more data privacy rules to address, all the while being expected to handle all of these changes with reduced budgets due to a sudden economic recession – digital life kind of became a handful!
So how did marketers adapt? Tealium wanted to find out so we surveyed 300 U.S. marketers in the travel, hospitality, finance, retail and healthcare industries to ask them just that.
The most notable finding? We found that CDPs were vital to marketers' efforts to address the many challenges of 2020. In fact – 68% of respondents said CDPs will remain a must-have technology in 2025, compared to only 57% saying so in our 2020 State of the CDP Report.
We're not surprised at that increase of a stat in the least bit, but we wanted to dig in further to see exactly what that meant and what else marketers said was crucial to them surviving and thriving in the weirdest year yet.
Check out the major findings from our 2021 State of the CDP Report research below to see how all you savvy marketing professionals can leverage this powerful technology in 2021 and beyond!
Martech budgets are growing
89% of marketers will spend more on tech in 2021 than they did in 2020, with almost a third (32%) spending significantly more!
This really amplifies the fact that marketers continued investing in CDPs despite budget cuts during the pandemic, showing the technology's central role in addressing third-party cookie loss plus so much more.
Check out the 4 key marketing priorities that become crucial due to the pandemic below.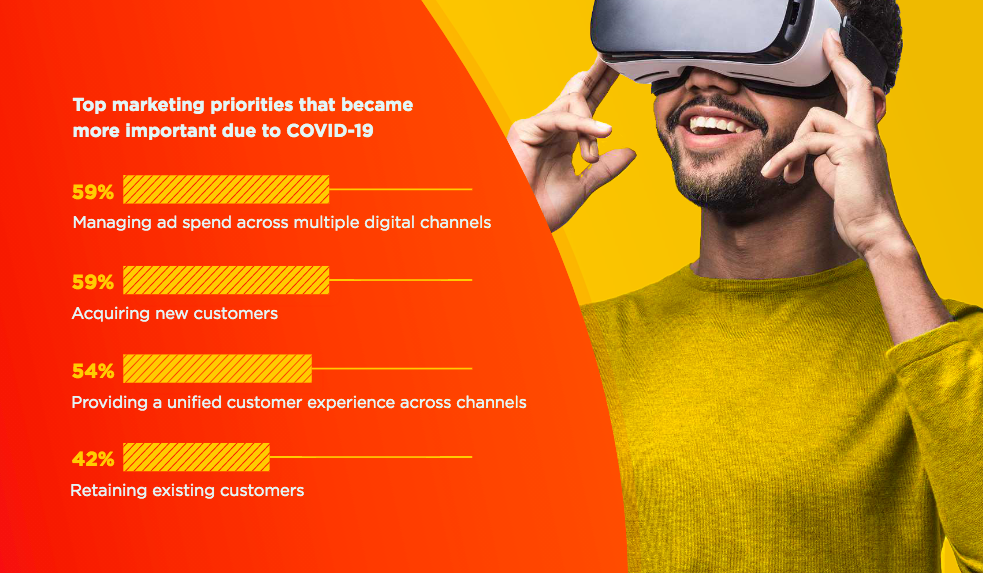 Privacy is a top priority
Better protection for customer data privacy is the No. 1 outcome marketers are looking to drive with tech in 2021.
This means that marketers realized that managing  all of the new regulations — on top of existing data privacy rules like HIPAA — requires the use of sophisticated tech solutions.
In 2021, marketers are really looking to CDPs to manage constantly evolving regulations.
Vendor neutrality is not a given
More than half (53%) of marketers strongly agree their martech stacks are walled gardens, consisting of solutions from one vendor that have limited cross-compatibility with other solutions.
This means that the leading tools in the industry have the ability to really provide seamless integrations
Integration difficulties are common
Almost two-thirds (62%) of marketers say it's difficult to integrate new third-party solutions into their martech stacks.
As first-party data becomes more central to marketing strategy, CDPs are becoming more central to martech stacks, too. That means they need to integrate with more solutions across the organization — and they need to do so easily and quickly.
This means that marketers are demanding more from their CDPs. But unfortunately, many marketers feel their existing solutions aren't delivering.
Check out the 4 improvements that brands are looking for in their CDPs.
AI is central to marketers' plans
89% percent of marketers say AI capabilities are extremely important for achieving their marketing priorities for 2021.
This means that the need to deliver great customer experiences more quickly is putting the pressure on marketers to leverage AI and machine learning capabilities.
Only some CDPs meet marketers' expectations for time-to-value
The majority (57%) of marketers expect to see ROI from martech solutions within six months or less, but less than one-third (30%) see ROI that quickly from their CDPs.
This shows us that the growing complexity of the martech stack makes it more difficult to quantify CDPs' impact on revenue and also lengthens time to value.
In 2021 and beyond, CDPs will be increasingly foundational to the martech stack. They'll adapt flexibly to new regulations, continue to underpin customer acquisition and retention strategies and enable powerful AI and machine learning capabilities.
To set themselves up for success, marketers should look for CDPs that are vendor-neutral, offer predictive insights and protect data privacy.
Want to see how else marketers should strategically plan for the future by investing in the right tech? Check out our full
2021 State of the CDP Report to make 2021
a record-breaking year for your business!