The Utah Jazz's Digital Transformation: 6 Winning CDP Use Cases
The Utah Jazz has become one of the most successful basketball teams in the NBA since its beginning in 1974, with frequent post-season playoff appearances. The team has also been busy off the court undergoing a digital transformation.
When the Jazz's newly-formed analytics group began to investigate the business, they identified early on that they needed more control over their website data. The company decided to implement a Customer Data Platform (CDP) to unify its digital ecosystem and address several specific use cases. 
In this article, we'll walk through the journey of the Utah Jazz's digital transformation. If you'd like to learn more, watch the Utah Jazz's presentation from this year's Digital Virtualocity here.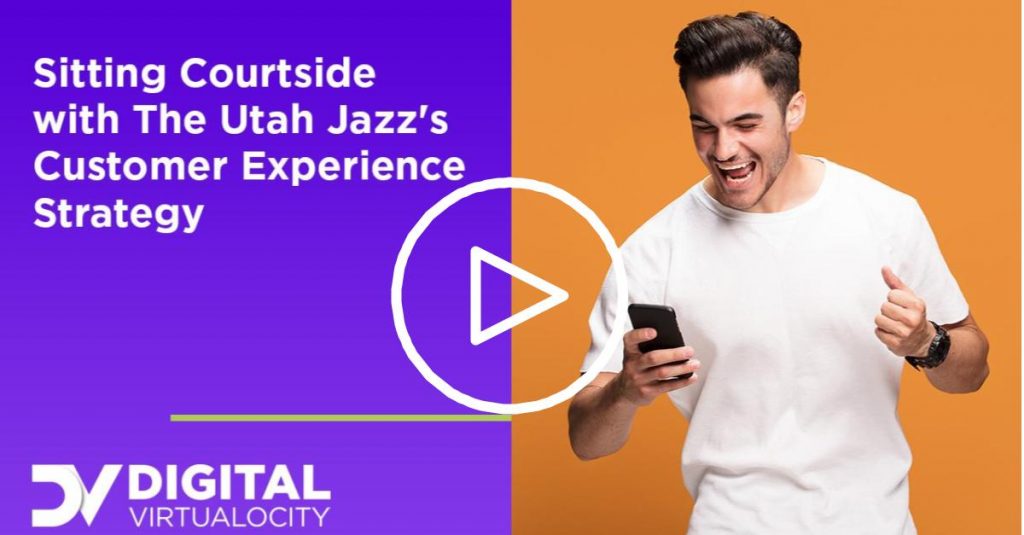 Stitching Together a Fragmented Customer Journey
The Jazz needed to bring continuity to their customer experience, so they began their digital transformation by evaluating how their new technology could impact various parts of the journey. The team began with one of their most common customer interactions: ticket purchases. The Jazz was running marketing campaigns that brought people to its website, but whenever a user made a ticket purchase, they left the site and went to Ticketmaster. This created a gap in visibility around user data.
In addition, the team's campaign messaging was static, regardless of where a customer was in their journey. Because the Utah Jazz didn't have the ability to export or store website data in a company system, it couldn't do deep data analysis to inform its marketing efforts, which was problematic.
The team also wasn't tracking the performance of its marketing campaigns to find out which emails actually generated revenue or how various social campaigns were trending.
The Utah Jazz needed a robust marketing platform that could stitch together (and report on) the entire customer journey, from the moment a user clicked on an ad, through to the website, through to Ticketmaster. This is where the digital transformation began.
6 CDP Use Cases for Digital Transformation
The Utah Jazz chose to implement the Tealium AudienceStream CDP because the technology offered insights into everything happening on the team's website, and provided access to valuable user data. This enabled the Jazz to execute a variety of use cases.
1. Analyzing website visitor data
The Utah Jazz began its digital transformation by using its new CDP alongside a Tag Management System to bring data from its website into company systems. With Tealium's visitor stitching technology, the team was able to create a unified view of its customers to inform email marketing campaigns and sales initiatives.
These insights have enabled the Jazz to improve its website experience and engage in more relevant conversations with customers.
2. Tracking campaign performance
The Utah Jazz also used the Tealium AudienceStream CDP to gather insights to build a marketing scorecard. The team can now tie revenue to campaigns and has run several different attribution models.
The marketing scorecard helps the Jazz allocate budget and human resources, as well as save money by redirecting marketing spend from underperforming channels to those that get better results.
Once the company was able to track how its campaigns were performing, the next step in its digital transformation was to test and refine its marketing efforts.
3. Building comprehensive audiences
Using Tealium's CDP, the Utah Jazz brought data from sources other than its website (e.g., sales reps, ticket scanners, etc.) and integrated it to build various audiences. This allowed them to provide better customer experiences because messaging could be tailored— season ticket holders no longer got the same offers as first-time visitors.
The team then connected this audience data to Facebook and Google to run targeted marketing campaigns. The Jazz's return on ad spend increased 62% in its first season using the CDP.
4. Abandoned cart retargeting campaign
The Utah Jazz was now ready to tackle more complex use cases. The company brought its success with third party platforms to its own website, launching an abandoned cart retargeting campaign, which has generated more than $100K in revenue per season.
5. Personalized game recommendations
The team has also begun to add more personalized components to its website and email marketing campaigns, such as offering specific game recommendations to users based on their previous purchases rather than simply featuring the next game on the calendar. This initiative has increased revenue per website visitor by 34%.
6. A/B testing articles
Many of the Utah Jazz's website visitors enter the site through article pages, so the company decided to implement A/B testing on these pages.
Initially, the Jazz thought that this would require purchasing new software, which would be costly and time consuming. Once the team learned it could use Tealium's CDP for the simple A/B testing they needed, the functionality took only a day to set up.
—-
The Jazz are continuing to improve their digital transformation strategy with every new use case they implement.
Want to know what's next for the Utah Jazz? Watch this video with Jared Geurts, VP Analytics and Digital Development, to learn more.