New Feature Spotlight: Say Hello to Tealium Functions
More of the customer experience is digital than ever before but the ecosystem of data and technologies powering these experiences are rarely based on a single platform. When new digital customer experience initiatives are brought up, integrations typically aren't one of the first things on top of the discussion list. But they should be.
Companies large and small spend a significant amount of time and development resources in getting integrations built. In fact, a report from the CDP Institute surveying marketing leaders found that integration with external systems (53%) tops things like ease of learning and use (51%) or breadth of features (40%) when choosing martech tools. And as for integration with internal systems, 66% of leaders cited that as most important, dominating all other answers. To keep the entire journey connected, businesses need more flexibility and options from their customer data platform (CDP) to quickly build custom "just for me" integrations, automations and transformations for their unique stack and use cases. 
That's why we are excited to introduce the general availability of Tealium Functions, a brand new feature for AudienceStream CDP and EventStream API Hub. In addition to an industry-leading integration marketplace, Tealium Functions now gives developers a canvas to leverage JavaScript code in order to quickly build custom solutions and launch new use cases faster.
Short on time? Watch the 5-minute demo and overview below.
Say Hello to Tealium Functions
We built Tealium Functions because each and every business is solving unique challenges with their customer data. At the core of these challenges is the need for customization. Tealium Functions enables the AudienceStream CDP and EventStream API Hub products unparalleled flexibility without added complexity. With a few lines of simple code, you can test and stand up custom integrations and use cases in hours. We pioneered this type of customization capability in the market when we introduced extensions in Tealium iQ Tag Management. Tealium Functions brings the same customization flexibility to our server-side products.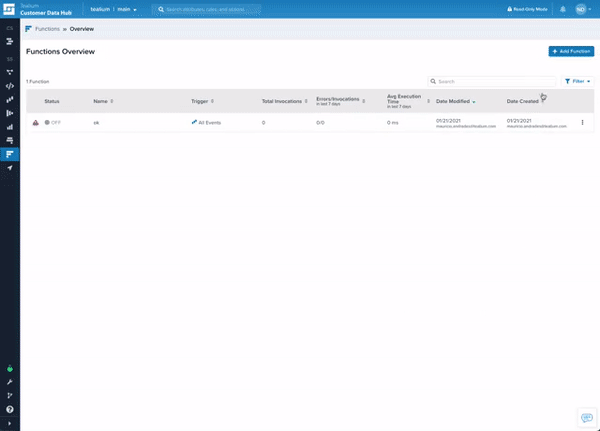 Today, you can get started with "Custom Actions" in Tealium Functions. Custom Actions gives you the ability to create Functions for data destinations and integrations (ie at the end of the data supply chain). Later this year, we'll be releasing "Transformations" for Tealium Functions or the ability to create functions at the point of data collection to transform, modify, or validate events before processing. After that, you'll start to see the ability to create functions all along the data lifecycle to create a complete customization layer in the Tealium Customer Data Hub.
Flexibility without Complexity
During the early access program, we've seen customers use Tealium Functions to build custom integrations or adapt existing marketplace integrations to their needs. Customers have also leveraged Tealium Functions to help automate workflows, transform data, and quickly connect to external data sets in real-time.  
Specifically, Tealium Functions can help customers:
Build or customize integrations to connect to custom destinations 

Transform data prior to activation to ensure that it is in its most usable format across the tech stack

Automate workflows to minimize repetitive, time-consuming tasks and increase high-scale efficiency

Quickly connect to external datasets to leverage critical data that lives outside of a business' CDP
With Tealium Functions, Alaska Airlines was able to customize an existing integration with a key personalization tool within their stack. In only a day, they were able to write code, customize their integration and begin bringing in a broader set of events to inform how they'd deliver the customer experience. Another early access program customer, Meridian Energy, saw incredible opportunities to leverage more data that lives outside the CDP. With Tealium Functions, they were able to connect to and query critical datasets that could help enrich their own first-party data. Learn how they were able to develop, test and stand up this use case in hours rather than weeks.
Conclusion
We are incredibly excited for our customers to give Tealium Functions a test and start putting their customer data to work easier and faster than ever before. Looking to dive a bit deeper?