Simplify Data Integration with the New Connectors Workflow
It's a fresh month and Tealium is rolling out a fresh new look and feel building connectors in Tealium AudienceStream CDP and EventStream API Hub! A connector, simply put, is an integration between Tealium and another technology. The Connector Marketplace in Tealium is where our customers like the Utah Jazz, Gap inc, Barcelo Hotels build integrations and actions that put their customer data to work. 
When new digital customer experience initiatives or driving digital transformation is brought up, integrations typically aren't one of the first things on top of the discussion list. But they should be. Companies large and small spend a significant amount of time and development resources in getting integrations built. In fact, Gartner found that integration work alone would account for 50% of the time and cost for companies building digital platforms through 2020. 
That's where a unified data infrastructure and Tealium's 1,200+ turnkey integrations come in allowing businesses to easily fuel their stack with trusted customer data all without spending time and costs associated with building ad hoc integrations. 
Today we've released significant updates to the connector workflow experience for AudienceStream CDP and EventStream API Hub that improve the user experience of the platform, help customers scale their work and make building integrations and actions on customer data a breeze. Let's take a look at what's new!
Short on time? Watch the 5-minute demo and UI tour below.
New Connector Workflow: Integrations are as Easy as 1,2,3!
A brand new, simplified workflow that allows Tealium users to build integrations and actions faster than ever. The new flow simplifies the setup process and walks users through each step of the connector setup and displays the action options already assigned for each technology.
This new experience in the Connector Marketplace makes integration building simple and intuitive enough for marketing teams while maintaining all flexibility and power that your developer teams will look for.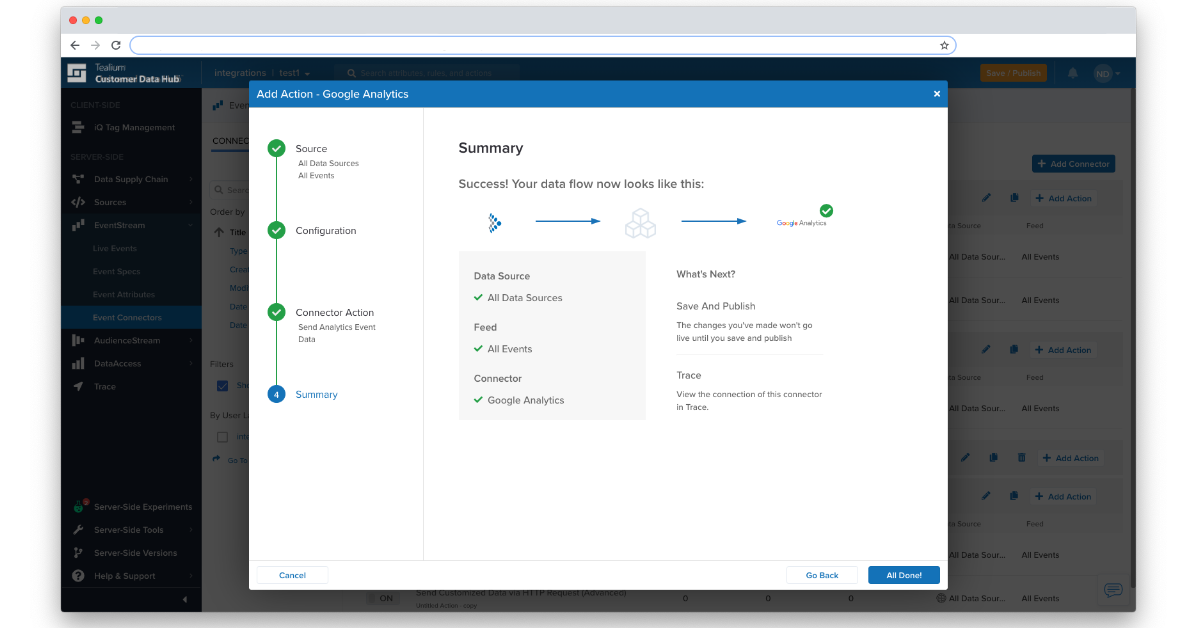 Tealium Power Users: Additional Hidden Gems You Should Know
While the new connector workflow and UX upgrades are the stars of the new update, there are some additional hidden gems that Tealium power users should know about:
Spotlight search

– New spotlight search functions make it easy for power users to drill down to the connector they are looking for in a few keyboard clicks and scale their workflows. 

Real-time Reporting

– New server-side connector reporting for AudienceStream and EventStream will now show event success and error counts in real time.

Updated Connector Summary

– A new connector summary view has been included that gives users easy access to what they will need to set up the connector, supported actions, and internal and external resources related to the connector.

Set Connectors by Configuration

– Set different configurations for a given connector (developer, sandbox and production account)

Reassign New Actions

– Create actions and reassign them to server-side connectors that have already been built
You can see the full list of everything that's been updated or is brand new in the Tealium Community! 
Conclusion
We are incredibly excited for our customers to hop into this new experience and start putting their customer data to work easier and faster than ever before. Looking to dive a bit deeper?