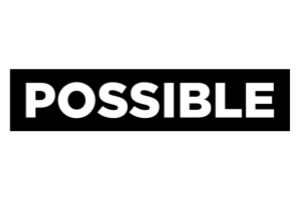 POSSIBLE is a digital agency that believes a promise is the foundation of every good relationship—and the truth is, brands make promises every day. We are visionaries and innovators working in creative, technology, strategy, and data science to create experiences that keep brand promises so that every interaction is an opportunity to build trust and loyalty. We use data to help us identify opportunities, technology to help us take advantage of them, and emotion to make the resulting experiences magical.
We've built our agency with our own promise: to foster a culture of inclusiveness and collaboration that appeals to those who want to do great work and make a difference. POSSIBLE creates experiences for some of the world's most dynamic brands, including Microsoft, Adidas, Lenovo and Mars. Those experiences have garnered recognition from the likes of Cannes Lions, Emmys, Effies, and Fast Company.
POSSIBLE is part of WPP and proud to be a Wunderman Thompson company. We bring the power and resources of WPP's largest digital network while still being responsive, agile, and locally present for all our clients.
Website: www.possible.com