Create Customer Loyalty & Retention Offers that Delight Buyers
Data-driven strategies to keep

customers coming back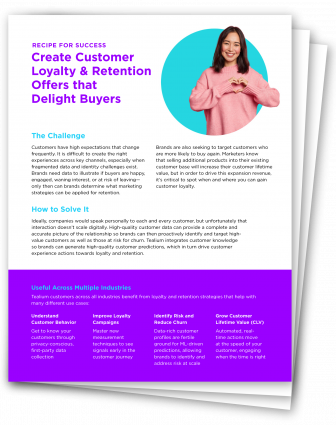 Customers have high expectations that change frequently. And it's difficult to create seamless experiences across channels, especially when fragmented data and identity challenges exist.
So how do brands solve for driving expansion revenue and customer loyalty?
Download your copy of Create Customer Loyalty & Retention Offers that Delight Buyers to learn how to leverage high-quality customer data to proactively identify and target high-value customers, as well as those at risk for churn.
In this eBook, you'll discover:
The challenge businesses face in determining if buyers are satisfied with their products & how data can help you design a marketing strategy aimed at retention
Steps for creating stronger customer loyalty & retention
Spotlights on two of Tealium's Loyalty & Retention Innovation Award Winners—Arizona State University and Bed Bath & Beyond
Resource Type: Whitepaper
Topic: Customer Data Platforms, Data Orchestration, First-Party Data, Governance, Healthcare, Identity Resolution, Integrations, Machine Learning, Personalization, Predict, Privacy, Retail, Sports
Product: AudienceStream Customer Data Platform
Vertical: B2B, Digital Services, Entertainment, Financial, Healthcare, Hospitality, Media, Retail, Sports, Travel, Whitepaper
Business Issue: Data Readiness, Digital Transformation, Single View of the Customer (Infrastructure), Single View of the Customer (Insights), Single View of the Customer (Personalization/Experience)