INDUSTRY EXPERT SERIES
Building A Foundation for Analytics Success Through Data Governance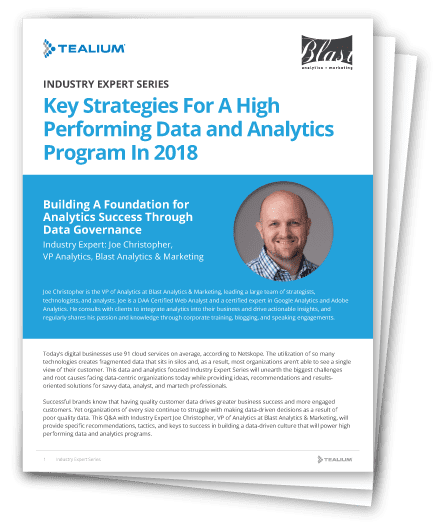 Executive Summary
Successful brands know that having quality customer data drives greater business success and more engaged customers. Yet organizations of every size continue to struggle with making data-driven decisions as a result of poor quality data.
Download this Q&A with Industry Expert Joe Christopher, VP of Analytics at Blast Analytics & Marketing, to discover recommendations, tactics, and keys to success in building a data-driven culture that will power high performing data and analytics programs. You'll also learn:
3 key things brands should focus on to create a high performing data and analytics program
How to determine your brand's data maturity level
Why data governance is critical in making data-driven decisions
One of the biggest misconceptions about data quality
Download the full Report
Fill out the form below to get your free copy of this comprehensive report.
Check out even more Industry Expert reports
Resource Type: Whitepaper
Topic: Governance, Industry Expert Series
Business Issue: Data Governance (Compliance)