INDUSTRY EXPERT SERIES
Building Unified Teams for Connected Customer Data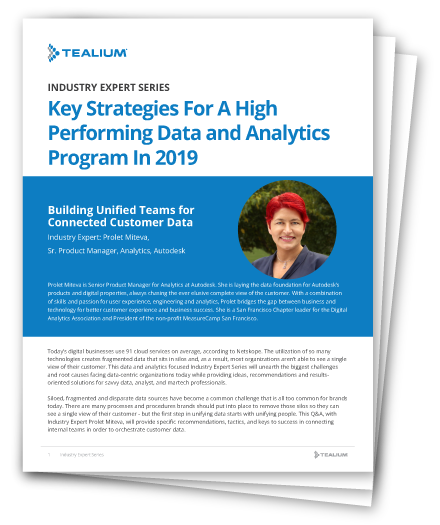 Executive Summary
Siloed, fragmented and disparate data sources have become a challenge that are all too common for brands today. There are many processes and procedures brands should put into place to remove those silos so they can see a single view of their customer – but the first step in unifying data starts with unifying people.
This Q&A, with Industry Expert Prolet Miteva, will provide specific recommendations, tactics, and keys to success in connecting internal teams in order to orchestrate customer data. Download this report to discover:
How organizations can get teams aligned and working towards the shared goal of unifying customer data
3 keys to creating a high performing data and analytics program
How to garner executive support and key stakeholder buy-in
Fill out the form below to get your free copy of this comprehensive report.
Check out even more Industry Expert reports
Resource Type: Whitepaper
Topic: Customer Data Platforms, Data Orchestration, Industry Expert Series