INDUSTRY EXPERT SERIES
Blending Digital Analytics with Human Creativity to Deliver the Optimal Customer Experience at Scale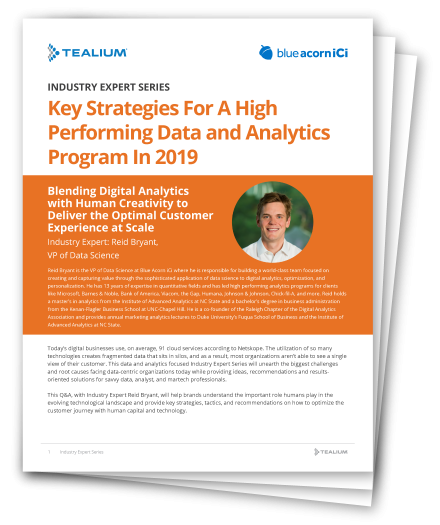 Executive Summary
Get this Q&A, with Industry Expert Reid Bryant, to understand the important role humans play in the evolving technological landscape and to learn key strategies, tactics, and recommendations on how to optimize the customer journey with human capital and technology. You'll also learn:
3 keys to creating a high performing digital analytics program
Why it's critical to optimize the customer journey and strategies on how to do this
3 different analytics techniques that can help solve common problems facing the marketing community
Download the full Report
Fill out the form below to get your free copy of this comprehensive report.
We respect your privacy and will never sell, rent, or share your personal information.
Check out even more Industry Expert reports
Resource Type: Whitepaper
Topic: Industry Expert Series, Machine Learning