Today's Most Powerful
Martech Duo: The CDP and DSP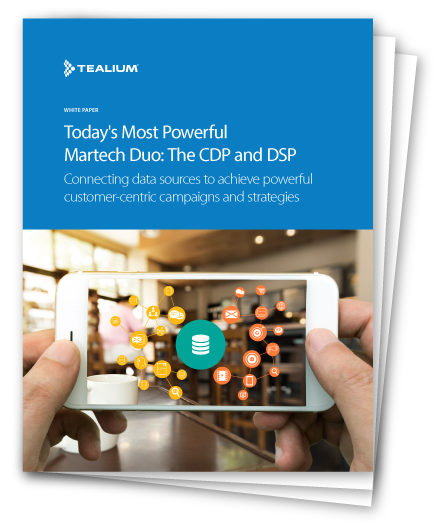 CONNECT DATA SOURCES TO ACHIEVE POWERFUL CUSTOMER-CENTRIC CAMPAIGNS AND STRATEGIES
Being able to capture, act on and leverage a single source of truth on acquired conversions is critical in having effective display ad campaigns. The combination of Customer Data Platforms (CDPs) and Demand Side Platforms (DSPs) provides organizations with real-time data, and connectivity of that data, across all marketing channels.
Download this white paper for more information on how:
The combination of CDPs and DSPs can help marketers enrich and act on their display data
A CDP can be used to create a unified view of your customers
A customer-at-the-center mandate can drive digital transformation
Start taking real-time action on relevant audiences and make more effective use of 1st party data. Get the report today.
Download the full Report
Fill out the form below to get your free copy of this comprehensive report.
Resource Type: Whitepaper
Topic: Customer Data Platforms
Product: AudienceStream Customer Data Platform