REPORT
The CDP Opportunity
How Brands Can Leverage Customer Data Platforms to Create Timely, Relevant, and Personalized Experiences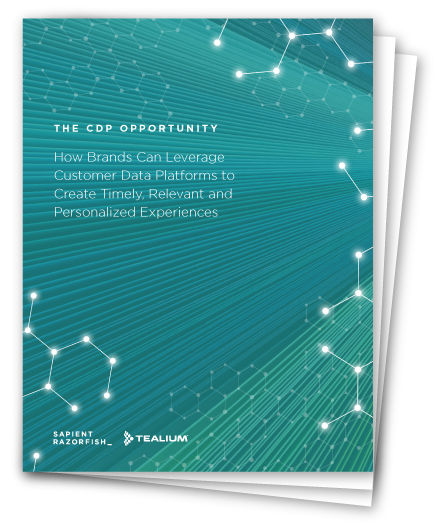 Executive Summary
Each day, an estimated 2.5 quintillion bytes of data is created. This includes staggering amounts of transactional and demographic data, as well as virtually infinite amounts of behavioral data. For many organizations, the problem lies not in the gathering of such data but in it's organization, analysis and application.
Over the past few decades, countless technologies have been introduced to help make sense of this data salad. While some tools have offered considerable improvement in managing disparate sources of data, none have been able to fully deliver on the promise and opportunity of data-driven marketing.
In this report, SapientRazorfish and Tealium examine the Customer Data Platform (CDP) and:
What makes a CDP different
Capabilities of a CDP
Key advantages over existing models
Download the full Report
Fill out the form below to get your free copy of this comprehensive report.
Resource Type: Whitepaper
Topic: Customer Data Platforms
Product: AudienceStream Customer Data Platform