Drive Omnichannel Personalization with Offline and Online Data
Your Guide to Personalizing Amazing Customer Experiences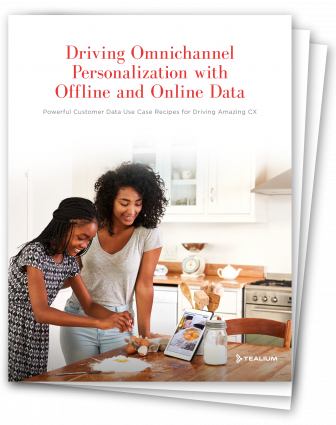 We get it, trying to achieve a single view of your customers is hard! As consumers engage with your brand across multiple channels, both offline and online, it can be challenging to understand your customer and have the insights you need to create an amazing personalized experience. But don't worry – there is a better way!
Download our eBook, Driving Omnichannel Personalization with Offline and Online Data, to learn the key strategies to help you create amazing personalized customer experiences while also increasing the efficiency of your advertising budget.
Get the eBook to see how to:
Drive insights that power amazing personalized experiences
Enable you to deliver the right message at the right time
Provide a more personalized call center experience
BONUS: Learn how a Tealium customer was able to increase revenue per website visitor by 34% and you could too!
Resource Type: Whitepaper
Topic: Customer Data Platforms, Data Orchestration, First-Party Data, Governance, Healthcare, Identity Resolution, Integrations, Machine Learning, Personalization, Predict, Privacy, Retail, Sports
Product: AudienceStream Customer Data Platform
Vertical: B2B, Digital Services, Entertainment, Financial, Healthcare, Hospitality, Media, Retail, Sports, Travel, Whitepaper
Business Issue: Data Readiness, Digital Transformation, Single View of the Customer (Infrastructure), Single View of the Customer (Insights), Single View of the Customer (Personalization/Experience)