Data-as-a-Service 101: Becoming Your Own Data Center of Excellence
Though it's a relatively new concept, Data-as-a-Service (DaaS) is emerging at a critical inflection point in our MarTech timeline: privacy laws are proliferating, technology stacks are diversifying as companies build towards a best-of-breed approach, and, well, companies have more data than they know what to do with.
What it all adds up to is the fact that companies need to gain better control over the way they collect, transform, and use data across their tech stacks. But that is complicated by that fact that many of the technologies in those tech stacks promote vendor lock-in and make getting data out a harder-than-necessary task. Since oftentimes the technologies that collect the data are also the technologies that use the data, the challenges of data governance, privacy, and creating a single customer view are hard for many companies to overcome.
Data-as-a-Service, in the words of Ted Sfikas, Regional Vice President Solutions Consulting, NA and LATAM at Tealium, asks: Wouldn't it be easier if we captured data first and delivered that data as a service to consuming technologies and people?
Ted Sfikas broke down the intricacies of Data-as-a-Service at our latest Digital Velocity, which you can watch in full here. Or keep reading for some of the key highlights from his talk.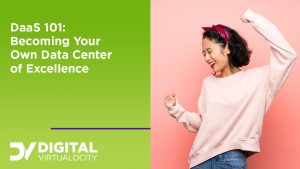 What is Data-as-a-Service?
Data-as-a-Service separates management of data from the use of data by different groups and applications. 
Sfikas argues that Data-as-a-Service is its own independent discipline and department— a veritable Data Center of Excellence— that is responsible for critical, company wide questions. Things like creating a data layer that standardizes naming conventions and governance, the data infrastructure, the security, and the solution design and delivery that helps build out use cases for the data would be governed by this CoE.
Data-as-a-Service requires five things, according to Sfikas:
Collection and distribution of data in real time

Enterprise-class scale

Privacy-by-design, compliance with CCPA, GDPR, etc.

Integrated to all consuming applications

Automation to eliminate risk and reduce labor
There's a high-degree of coordination between departments here. And even though it's aimed at large organizations, smaller companies can easily include degrees of DaaS practices into their customer data strategies as well.
In doing these things, companies will have data that is governed, standardized, automated and integrated. Watch the whole presentation where Sfikas breaks down how each one of these is achieved.
Why is DaaS something your organization should care about?
There's a long list of reasons why companies should care about improving their customer data with DaaS strategies. Here are four of the top reasons for your consideration:
2. Your Tech Stack is Probably Not 100% Integrated

A recent report from the CDP Institute found that, "For the first time ever, the majority of participants (52%) described their martech stack as an integrated, multi-system architecture." Companies are building towards a best-of-breed tech stack more than ever before, but integration remains a key challenge still. Depth of integration between your technologies is easier to achieve when data is treated as its own service.
2. Privacy Laws are Evolving
Governing data independently of the tools that collect and use it is also wise when it comes to complying with evolving data privacy laws like GDPR and CCPA. The centralization of data means you're governing the distribution of consent and data at one point, rather than balancing permissions as data flows from application to application. 
As consumers gain more granularity over the channels where data collection and utilization is okay, companies will need the simplicity of a Customer Data Platform paired with a Consent Management Platform to keep up with these requests.
3. Machine Learning Is Here
Machine Learning will undoubtedly help companies make the most of their customer data, but to help make Machine Learning initiatives successful, it needs good, clean data. Without it, even the best models and algorithms will go awry. Data-as-a-Service, with its focus on data governance, provides data scientists a jump start on one of the most labor intensive parts of Machine Learning.
4. You Need a Unified Customer Profile
Whether it's privacy, or third-party cookie loss, or consumer demands for personalized experiences, the answer is a unified customer profile. Data-as-a-Service, especially when it's built with a Customer Data Platform. Some Customer Data Platforms like Tealium AudienceStream CDP enable you to separate customer data from the myriad sources and activation channels you have and unify it all into a single customer profile.
That single customer profile can inform digital marketing teams, but also customer service, sales, and privacy teams. Organizing your Data-as-a-Service strategy to focus on delivering a single customer view helps solve many of the aforementioned challenges facing marketers today.
What DaaS ultimately gives your company is a centralized, secure, and compliant approach to data management. That approach, Sfikas argues, will empower the breadth of your digital transformation efforts moving forward.