Introducing the Tealium Learning Community (TLC)
Today I am extremely excited to announce the launch of the Tealium Learning Community.
Available to Tealium clients and partners, the TLC (pun intended) is the place to find the help, documentation and other educational resources users need to be successful with Tealium's service. You can find out about new features, learn to navigate the Tealium management console, and get help with any questions you might have on how to maximize your use of Tealium iQ. Because we want Tealium to be the place where digital marketers go to be successful, we believe that a social / community approach to knowledge sharing is the best solution. The Tealium Learning Community is that solution.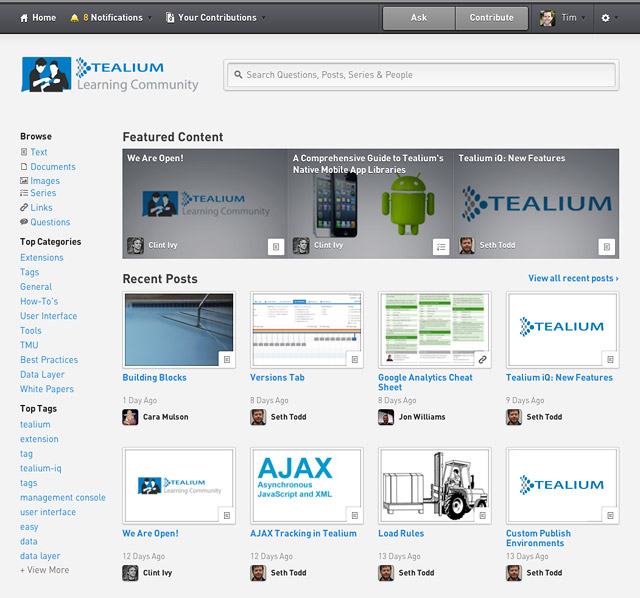 Ok, but what is it really?
The TLC is a socially-driven, knowledge-sharing platform. Uh-huh, yeah so what does THAT mean? Well, I like to think of the TLC as a combination of equal parts Facebook, Quora (or Stackoverflow for the developers out there) and WordPress.
Why is it like Facebook?
First and foremost, it's a social platform – we're building a community and feel very strongly that our clients and partners have at least as much to teach each other as we do. It's also based on real identity – everyone operates with his or her real name. This helps to build trust and that is key to the success of this platform.
Also similar to Facebook, you can "hi-five" ("like" anyone) content and follow people, questions, posts and series.
Why is it like Quora?
Quora, if you're not in the know, is a service dedicated to questions and answers. Similarly, the TLC has a question and answer feature as a core service. If you can't find an existing post, or answer that addresses your question then you can ask the community at large. Who can answer questions? Tealium's staff is on hand (always) to help. In addition, those community members (both client and partner) who have achieved Tealium certification can answer your questions directly. Don't feel left out though – even if you can't "Answer" with a capital "A" you can provide an answer via the comments feature. If you think you have an answer to someone's question, but you're not certified to "Answer" (there's that capital "A" again) then simply use the comment box to provide your answer. If we think it's the best answer we can (and will) promote it to an "Answer".
Why is it like WordPress?
Our staff is producing posts, downloadable documents and videos to help you with your tag management and digital marketing challenges. The TLC makes publishing this content incredibly simple (like WordPress) and the content is largely organized in a timeline (most recent first), just like a blog. It also supports tagging and categorization of content for more robust discovery.
How do I get access?

If you have access to the Tealium iQ console then you have access! Simply click on the "Community / Help" link in the upper-right corner and set up your profile!
What can I expect to see?
We have a small but growing library of content on topics like tag configurations, best practices and in-depth "how-tos." Over the coming months this library will expand, especially in the area of video tutorials. All of our new features will be documented here and we are working through a backlog of existing features, tags and extensions to help you get the most out of Tealium iQ.
What are the rules of the road?
We don't have a long and incomprehensible End User License Agreement (EULA). Instead we have some simple rules that we ask you to follow.
This is a professional community, please act accordingly.
This is a safe place for you to discuss your tag management and digital marketing challenges and it's up to you to keep it that way. We hope that our clients and partners will learn from each other. That being said, be careful about the information you share — if it's proprietary data about your company or customer then it probably doesn't belong here. Take some time to abstract or generalize your proprietary data while maintaining the integrity of your question, comment or answer.
No pitching! No selling! This is a free service that we provide to all of our clients and partners and we want to keep the community as open as possible.
No harassment of any kind will be tolerated. Please no trolling or acting unprofessionally. If you feel like someone is acting in an inappropriate manner, please send an email toso that we can quickly resolve the issue.