WHITE PAPER
Data Governance: Embracing Security and Privacy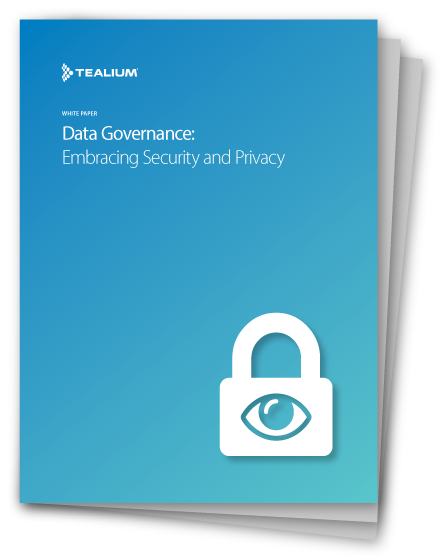 Reduce Risk, Ensure Customer Data Privacy
The proliferation of marketing technologies, an expansion in the use of private customer data and a rapid shift in the global privacy environment (GDPR and EU-US Privacy Shield, for example) are creating an increasingly vulnerable environment with harsh penalties for non-compliance.
Key Implications of New Legislation & Data Risks – What you need to know about the General Data Protection Regulation (GDPR) and other regulations before defining your data security and privacy strategy
Functional Solutions to Address These New Realities – How technology (and Tealium) can help address the new marketplace reality
Data Governance Checklist – Actionable 5-step plan for balancing Customer Experience with Privacy & Security
The first step towards compliance is education, before ultimately enacting a plan enabled by tools, technology and processes that mitigate the very real, and very expensive, costs of vulnerable data.
Download our white paper today to start your journey towards enacting a data governance strategy that minimizes risk, keeps your customers' data secure, and allows you greater flexibility in your organization's customer experience despite greater restrictions on the use of data and the importance of privacy.
Download the full Report
Fill out the form below to get your free copy of this comprehensive report.
Resource Type: Whitepaper
Topic: Governance, Privacy