4 Mission-Critical Insights from Heatmaps and Visitor Recordings
Editor's Note: This is part of an ongoing guest blog series with digital marketing leaders, including many of the 500+ marketing vendors that are integrated into the Tealium tag management platform. This week, we invited Ariel Geifman, Director of Online Marketing at ClickTale, to discuss how heatmaps and visitor recordings improve website performance and provide actionable insights for digital marketing.  
Traditional web-analytics tools such as Google Analytics or SiteCatalyst portray a robust picture of the traffic to a website and the flow of visitors between pages. However, they fall short of providing actionable insights into what users do when they spend time on a specific webpage. Heatmaps and visitors' recordings fill this void by visualizing visitors' interactions with a page and pointing to improvement that will increase engagement and conversions.
The academic foundations to the validity of heatmaps and visitors' recordings were laid in a research from Carnegie Mellon University that found an 84-88% correlation between mouse movement and eye movement. This breakthrough in user experience analysis allowed deploying sophisticated analytics – that once required labs and expensive equipment – to any website.
Here are four mission-critical insights that can get you instant improvement in your website performance.
Users Are Distracted Away from Your Call to Action
If you think that all you have to do is place your call to action above the fold, guess what? You're wrong. People can be distracted by some of the elements on your page and abandon the conversion process.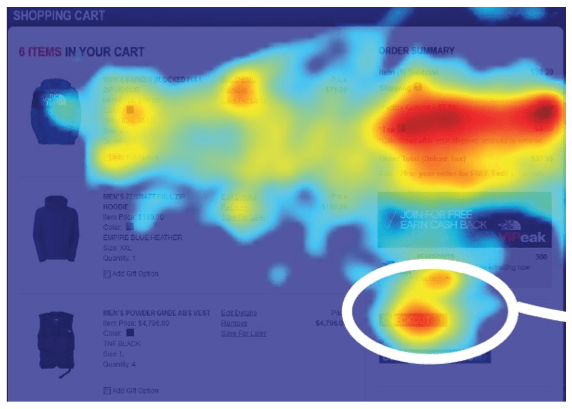 This is what a large e-commerce website found when they looked at a heatmap of their page. While the call to action was above the fold, users were distracted by a banner that was placed between the shopping cart and the checkout button.
By making a simple change – moving the checkout button above the banner – the company managed to increase conversion rate by 62%. Simple change, major impact! All as a result of looking at visitors' interactions via heatmaps.
Your Form Is Scaring People Away
It's the money time. The visitor just started to fill out the form, but suddenly something happens and all you're left with is shopping cart abandonment. Forms have a direct impact on the bottom line and therefore should be where you focus a significant portion of your optimization effort.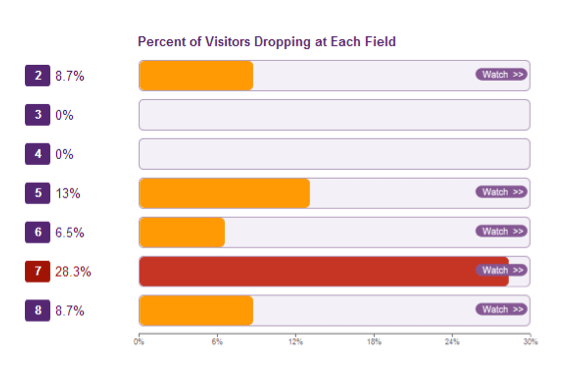 The first stage is to look at your form and see where people drop off. In the above example taken from a lead-generation landing page, the seventh field asked people to select the product they were interested in from a drop-down list box. While the field was necessary to direct the lead to the proper sales team, watching visitor recordings showed that many users struggled to choose the right product. They opened the drop-down list box, looked at the different options, and simply gave up as they did not know which one to choose.
Another reason for lower form conversion rate that can be easily revealed through visitor recordings is validation errors. People can drop out due to reasons as simple as not being able to introduce their phone numbers with dashes, or international users being required to enter a 'state'.
Users May Not Scroll Down
Long product pages are not a new thing, and 'deep below the fold' is no longer a bad expression. But after you design your new super long page, check the stats and whether people are actually scrolling down.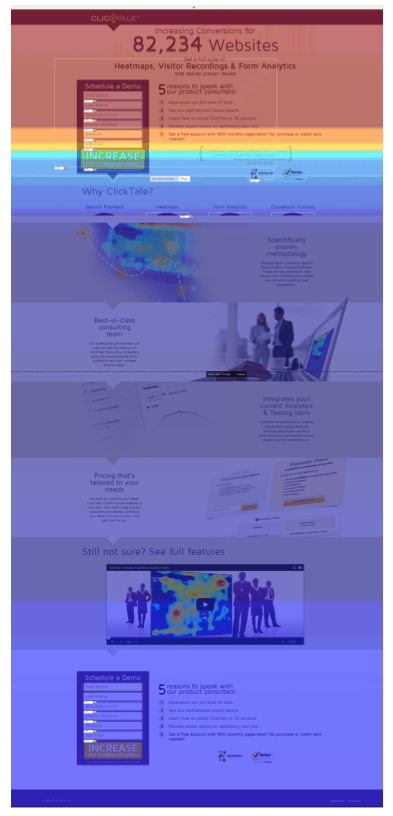 In this example from ClickTale, we created a long landing page. The conversion form is at the top of the page, but much of the product information is below the fold. Our analysis shows that more than 50% of visitors scroll down to see our product information, case studies and list of customers. Almost 35% of visitors scroll all the way through to the bottom of the page. In this case, as shown by the scroll-down map, the long landing page is an excellent solution for conveying a lot of information and still keep visitors close to the conversion form.
'Linkless' Areas
When users click areas with no links, this is something worth tracking and investigating. One of the reasons this may happen is confusing design – users think that an element is clickable when in reality it is not. Likewise, some people hope to find more information and click expecting to find something else there.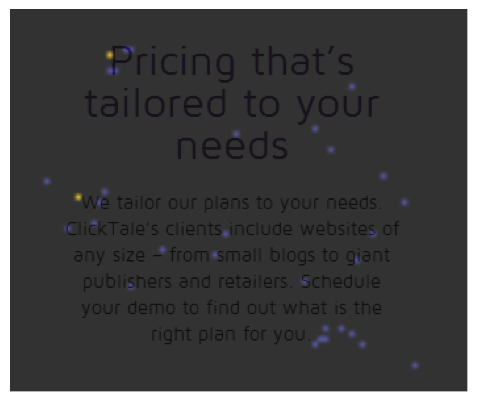 In this example, people clicked the "Pricing that's tailored to your needs" text, under the assumption that they would see the pricing revealed, although it is rather clear that the element is simple text. Click heatmaps offer a very simple tool that can have a major impact on usability and conversion rate.
Conclusion
While traditional web analytics provides statistics about the number of visitors and their flow, heatmaps and visitor recordings can help you get powerful insights into how users engage with your pages. This user-experience visualization can reveal hidden behaviors, boost your conversion rate and increase engagement.
About ClickTale
ClickTale (www.clicktale.com) is the industry leader in Customer Experience Analytics (CEA), providing businesses with revolutionary insights into their customers' online behavior. Over 80,000 businesses rely on ClickTale to optimize website performance, improve usability and dramatically increase conversion rates. ClickTale tracks every mouse move, click and scroll, creating playable videos of customers' entire browsing sessions as well as powerful visual heatmaps and behavioral reports that perfectly complement traditional web analytics. As a fully hosted subscription service, ClickTale is cost-effective and quick to set up.