7 Questions with Digital Marketing Expert Jason Burby
Editor's Note: This is part of an ongoing series of interviews with digital marketing thought leaders. Jason Burby, who will be a keynote speaker at Digital Velocity 2014 in January, was recently promoted to President, Americas at POSSIBLE, a WPP-owned global digital agency.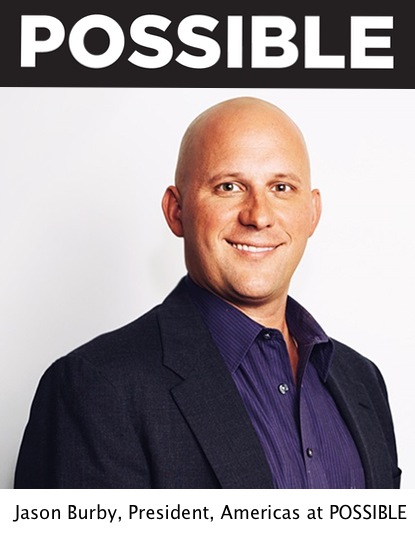 Q1. Thank you for agreeing to speak at Digital Velocity 2014 in January. We are excited to have you. Your afternoon keynote is titled, "The Rise of One Size Fits No One." Can you tell us what you mean by this and give us a sneak peek into your presentation?
For years, marketers have been talking about the benefits of targeting different audiences in different ways. It is tough to argue against that approach, but most marketers aren't taking advantage of what technology now makes fairly easy. We know that the more relevant we can be to our audience, the more successful we will be as marketers. For example, why are we treating someone who has been to a site and purchased (or logged in) 10+ times in the previous six months, the same way we are treating someone who is visiting for the first time? The chances of those two groups having the same needs or responding to the same calls to action is minimal. Technology today allows us to better understand our audience and their past actions or interactions. This will be the focus of my presentation at Digital Velocity, and I am looking forward to it.
Q2. How has your role at POSSIBLE and your background in general given you insight into this particular topic?
For years, we have focused on using data to better understand our clients' audiences and identifying opportunities to increase conversions (or other desired behaviors) in the digital space. We found (not surprisingly) quite early on that even people that may appear to be the same will respond very differently to campaigns. By understanding that and building digital experiences to allow for those differences, we have made a material impact to our clients' businesses. We have found that no matter the industry, product or geographical region, the same holds true. We see the same opportunity whether we are working in consumer packaged goods, apparel, automotive, technology, hospitality, etc. We have found success in tailoring experiences in North America, Europe, South America and APAC. The beauty is that no matter the industry or geography one things holds true: Different people will respond to different things and we must tailor those experiences to them.
Q3. What role does tag management play at POSSIBLE? How do you see a new product like Tealium AudienceStream benefitting your customers and brands in general?
With the number of tags our clients are using, tag management allows us to greatly simplify things and ensure we have an accurate view of what is happening and can do so efficiently. Having said that, while tag management is an important part of managing your digital marketing operations, I see something like Tealium AudienceStream doing much more. It can be a game changer for brands in terms of really tailoring experiences online and offline. As mentioned previously, the importance of being able to tailor experiences is key, and there are tons of technologies that allow you to show different people different content. But one of the reasons why people struggle is being able to pull the data together to feed into those tools. So you end up with pockets of information with huge gaps. What is exciting to me is that AudienceStream can help close those gaps and more easily share it online and offline, as well as with the many different tools that people are using to tailor those experiences. I also like the relative ease of use in getting it up and running and being able to make an impact right away, rather than taking months or years to build something and trying to tie all these pieces together.
Q4. You are well known within the web analytics community from your time at ZAAZ. How has the analytics industry changed since ZAAZ joined POSSIBLE, and what changes still need to occur?
A lot has changed in terms of the view of "analytics" over the years; I continue to see more of it since ZAAZ joined POSSIBLE almost two years ago as we now work with large and more global brands around the world. There are different realities in different parts of the world, but one thing doesn't change: Analytics is an ingredient not the end game. In the past, and too often today, companies and individuals are too focused on analytics for analytics. The buzz around "big data" has in many ways made it worse as people talk too often about the promise of big data in the future, rather than how the data we have today and can drive the business TODAY. Some of the things that need to continue to change in my mind are:
Putting the data to work to impact consumers and the business for a positive.
Tailoring experiences based on individuals or specific segments.
Looking at data holistically – online and offline, attitudinal and behavioral, social, mobile, in-store, customer, etc.
Look for the biggest potential opportunities to impact the overall business. Invest and spend time in those areas first!

Q5. I really like a question that Google's Avinash Kaushik once asked you, "How do you make yourself indispensable to your customers?" Can you answer that question again today?
Great question, that interview was a number of years ago. I intentionally answered this without reviewing what I said before to see how different my answer is. Feel free to include that answer as well.
In our world, the way we make ourselves indispensable to our clients is around alignment and transparency.
ALIGNMENT: We look at alignment of our clients' business goals. With new clients, one of the first things we do is to make sure the entire team (on our side and the client's) is crystal clear about the overall business goals, and more specifically, the role that digital plays within those overall goals. Digital should include bought, earned and owned channels including social, mobile, out-of-home, etc. While this may seem very basic, it is interesting how often these things are not defined, or commonly shared, or simply not aligned. Once everyone is involved in those, we document and post them, and as we kick off individual campaigns or projects, we revisit those and then define the specific goals by channel for those campaigns. All of our work throughout the project is based off those goals and targets. This helps us avoid scope creep on things that don't drive the overall intent, but also allows us to make decisions throughout the process to improve the solution. Once a campaign/initiative launches, we then report back on success on an ongoing basis based on what was established up front.
TRANSPARENCY:  This alignment leads to transparency. Once that initiative launches or is in market, we report back on what is working and what could be improved against those established goals. Transparency is key to the process as we tell clients post launch that we WILL come back with suggestions on what we can improve. Over time, this builds great trust with our clients and makes everyone feel we are all on the same page in terms of driving great results through amazing experiences for their customers and prospects. This is often done through monetizing the interactions to understand the profit impact to our clients to help determine a true ROI.
So the way we make ourselves indispensable to our clients is by driving their business in beautiful, smart and creative experiences that preform against their business goals. We aren't afraid to share areas of improvements and to constantly look for opportunities to maximize the impact to our clients businesses.
We refer to this internally as "Does it Work?" Not a meeting or day goes by without people in every one of our offices around the world asking, "Does it Work?" for our clients.
Q6. It's been an exciting year — what would you consider the most important development in digital marketing in 2013? What are your Top 3 digital marketing trends for 2014?
I am not a huge fan of predictions as they either end up being way out there or so obvious that it isn't worth discussing. If I had to pick some trends I think we will continue to see over the coming year that will most impact the way our clients do business, they would include:
Greater Digital Personalization – Moving away from the one size fits all for many more digital experiences for brands.
Better Integration of Online and Offline Data for a Single View of Customers – Sharing what marketers know about people online and offline to tailor experiences.
 Marketers Better Responding to a Fast-Growing Mobile Audience – Mobile is still too often a second thought even when the data shows that 50% of consumers are accessing many brands content from mobile. As of now the budgets and focus still aren't aligned in terms of dollars or resources aligned to mobile. This includes earned content, social content, owned content and even things like Amazon, etc.
 LinkedIn – Everyone is talking about Facebook, Twitter and YouTube, which are surely great opportunities for marketers. However, too many brands are missing the opportunity of leveraging and targeting through LinkedIn and some of the amazing opportunities that are there with the depth and accuracy of profiles. Earlier in the year, we created a LinkedIn practice to specifically help our clients take advantage of this opportunity and are continuing to see very promising results that most brands seem to be ignoring.
Q7. If you had to sum up in a few words, what is the future of marketing?
The future of marketing will continue to evolve into two-way communications with brands and consumer. This will be done through personalized, tailored solutions with customers and prospects that drive brand advocacy, sharing and true business results. But all of this must be done through great, authentic, on-brand experiences. Big brand marketers will continue to shift from broadcasting messages as the bulk of their budgets, to engaging with their audiences to build and grow brands authentically.