How to Thrive in the New World of Conversion Measurement with Tealium + Google
As an advertiser, you rely on having accurate conversions to prove your campaigns are actually driving revenue and to make necessary optimizations. So what happens when obstacles like third-party cookie loss come into the ad ecosystem and impact your access to these pivotal conversion metrics? 
Luckily, we're here to help you figure it out! We recently sat down with Google's Conversion Measurement Product Lead, Namrata Chakrabarti, to talk about how our partnership can help brands tackle these challenges and set themselves up for long-term success.
Keep reading to see the key takeaways from the webinar or jump straight to the on-demand session right here.
Changes in the ecosystem will impact conversion measurement
Third-Party Cookies
By now, you've probably heard more and more talk around third-party cookie loss despite the deadline being pushed to 2023. However, even with that extra bit of time, brands should start preparing today by finding ways to own their data pipeline to ensure customer insights, advertising, and experience continue properly. 
Privacy
Aside from cookie loss, we're also seeing user privacy expectations reaching all-time highs. This means going forward you'll need to be completely transparent about how you're collecting customer data, what insights you're capturing, and how you'll use that valuable information. Consent banners will be more important than ever, and it's an absolute must that you give your customers the option to opt-in to only what is necessary. This disclosure helps you continue getting the insights you need for the time being, and it allows you to build up those one-to-one relationships which will lend a hand down the road towards identity resolution.
Investing in your first-party data strategies
The best thing your brand can do today to prepare for third-party cookie loss is to establish data governance with a first-party data approach. With this first-party data approach, you're able to obtain trusted customer data in real-time by collecting every first-party interaction with consent. 
A good place to start when making this switch is inventorying what first-party data you already have access to and how you're collecting it, then building out even larger first-party data sets to avoid significant gaps caused by data deprecation. 
However, these first-party data sets won't be built overnight. It will take some time to acquire the necessary first-party data and test out what methods will work best so you feel confident going into the third-party cookieless world.
Something else to consider is that with a first-party data strategy, your collection method will heavily rely on your brand's customer facing interactions. That said, Gartner has proposed that organizations use "server-to-server connections to capture measurement data [and] allow for data collected using first-party cookies to be shared with specific partners." This is exactly what occurs with Tealium's integration with Google's Enhanced Conversions API. Our integration helps augment the gaps resulting from data deprecation and acts as a key piece in measuring and modeling conversions.
How Tealium + Google can help you ensure accuracy amongst the change
With Tealium's new integration with Google's Enhanced Conversions API, this is what that server-to-server method in conjunction with a first-party data strategy looks like: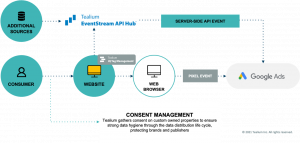 In this visual, the bottom series of events represents one of your typical first-party interactions. More specifically, a consumer has hit a digital property (which in this case is your website), immediately triggering Tealium's Tag Management solution. From there, the web browser sends those insights to your Google advertising tools. 
Additionally, since more consent is now needed to honor customer privacy expectations and meet regulations, we need other methodologies to collect additional data that will help create a more complete customer profile and ensure accuracy. 
This moves us to the top string of events in the visual which demonstrates what happens when the server-to-server method is applied. Tealium's EventStream API Hub allows you to collect data from multiple places to fill in the gaps and avoid disjointed experiences. You can also see in the top left that Tealium will pull in other information about the customer journey in order to inform you of what actions you're seeing and measuring in Google Ads.
However, our partnership with Google expands so much further outside of their Enhanced Conversions API and Google Ads. We have over 11 turnkey integrations with Google already, but we're also vendor neutral meaning we can integrate into whatever other tools you already have in your stack.
Learn more about our integration with Google or see firsthand how Tealium + Google can help you deliver more powerful experiences by requesting a demo today!
Be sure to also check out our All You Need is Data Love webinar series to watch the on-demand sessions with our other partners Amazon Web Services and Braze!