The Importance of Multi-Channel Communication and 3 Ways to Do It Right
In today's screen-obsessed world, timely and relevant communication with your customers is more important than ever before. And while delivering the right message at the right time is practically a tale as old as time, one amendment to that principle is how many channels brands can now use to deliver that message.
More specifically, communicating with your customers through one channel alone is no longer enough. With how quickly consumers are moving from one channel to another, brands who do not use multiple channels to communicate with their customers are missing out on a tremendous opportunity.
But hold on – that's not to say that you should over-communicate with your customers. The messages you're sending through those various channels still need to provide value and help you reach your business goals.
To help get it right, we recently sat down with our amazing personalization partner, Braze, to share three examples of powerful cross-channel experiences that help brands increase customer retention and lifetime value.
Keep reading to see the key takeaways from our chat or go straight to the on-demand session.
Tealium + Braze: Better Together
(5:11)
Before we dive into the examples, let's take a step back and look at how Tealium and Braze work together.
With Tealium, brands can access unique customer profiles fueled by cross-channel insights. From there, Braze users can drive stronger campaigns using those enriched customer insights to better personalize their messaging across channels in real time.
Tealium and Braze work in harmony as a continuous loop — the results of those Braze campaigns just mentioned are fed back into Tealium to further create comprehensive customer profiles (see below):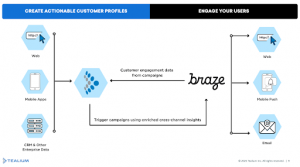 Now let's look at how brands can put these enriched omnichannel insights to work.
Example 1: Using 360º Profiles to Provide More Value to Your Customer and Strengthen Loyalty
(19:16)
Let's pretend you're an athletic footwear company, and a customer, Kayla, has just bought a pair of running shoes as well as downloaded your mobile app. With access to her unified profile that has multi-channel insights from both Tealium and Braze, you can also see Kayla has purchased this style of running shoe in the past and has signed up for SMS notifications.
Knowing these preferences, you can now send Kayla relevant messaging in her preferred channel (like SMS notifications) or offer special deals through your mobile app for products she likes. 
You can take this one step further by also sending Kayla SMS notifications reminding her to get in a run or encouraging her to break her personal best based on the new behavioral data obtained from her account on your mobile app. Doing this not only makes sure your message is seen but actually provides value outside of the product which leads to customer loyalty.
Example 2: Using Location Data to Send COVID-19 Alerts to Travelers in Real Time
(28:17)
In this example, you are now an airline company. In your customer Sean's profile, you see his location data, travel dates, and ticket purchases. Using those cross-channel insights, Tealium will help you build audiences with the same characteristics, or tags, and preferred communication channels.
Once grouped together, you can push COVID-19 alerts in real time to flyers traveling to hot spots. This allows for better segmentation and agility which leads to reduced ad spend in the long run. 
Example 3: Increasing Customer Retention Using Predictive Analytics and Consistent Engagement throughout the Customer Journey
(33:05)
Similar to our last example, once you've created audiences, you can then use predictive analytics to improve segmentation and efficiency once again. 
For example, this time you're a video game retailer and see Alyssa and Nate are both purchasers with estimated lifetime values greater than $1000, and they prefer email, mobile app, and SMS communications. With the help of Braze, you can also see both Alyssa and Nate are in the same journey stage.
By applying machine learning to these omnichannel insights, you can create audiences that are filled with profiles with the same tags as well as similar predicted outcomes. 
For instance, you can create an audience that includes people who are over 50% likely to make another purchase. Knowing that along with the insights listed above, you can suppress them from certain ads. Alternatively, you could create another audience of brand new product owners and use their preferred communication channels to send in-app only deals and email or SMS promo codes to help push them to purchase.
Key Takeaways
All things considered, here are the main things to remember:
Using only one channel to communicate with customers is not going to cut it anymore.

Don't confuse multi-channel communication with meaningless, over-communication.

Without Tealium + Braze, you may be missing out on crucial insights you need for your omnichannel campaigns to be successful.
Looking for more examples of stellar cross-channel experiences? Check out our brand new cookbook, Driving Omnichannel Personalization with Offline and Online Data!
Or see firsthand how Tealium + Braze can help your organization take your omnichannel experiences to the next level by requesting a demo today!