Digital Velocity 2020 Call for Speakers
It's tough to believe, but 2020 is right around the corner, which means it's time for our annual Digital Velocity call for speakers. This year, our San Diego event is scheduled for May 12-13 and our European event is scheduled for 16-17 June.
If you're already set on being a speaker, scroll down to the bottom and sign up now. If you're still considering, keep reading to learn more about what it means to be a speaker at Digital Velocity.
Over the last six years, Digital Velocity has become the must-attend event for executives, marketers, IT professionals, and data scientists who empower the customer experience through data. Digital Velocity attendees explore a wide range of topics, including creating a true single view of the customer, governance and regulations, machine learning and artificial intelligence, getting maximum value from their tech stack, and much more.
Companies from a wide variety of industries come to one of our regional Digital Velocity events to learn from Tealium specialists, customers, agency partners, and industry experts. For companies that choose to present, it's an exciting exercise and gut check, according to Geoff Howland, past DV speaker and Head of Racing Product & Personalisation at Sportsbet. 
"Digital Velocity was a great opportunity to showcase some of the exciting data driven experiences we're delivering as a business," Howland said, "and get quick feedback on our digital strategy and opportunities for the future from other attendees and speakers. While opening ourselves up to this was slightly daunting, it was a great learning exercise to subsequently hear that other companies are facing similar challenges, get insights into how they can be overcome, and also a nice reminder that we've actually been doing some pretty innovative stuff for our customers."
Every Digital Velocity features a variety of speakers who bring their expertise and passion to these topics by sharing compelling stories. According to past DV speaker Johanna Álvarez, AdTech and Attribution Modeling Specialist at Barceló Hotel Group, DV audiences are genuinely excited to learn about other people's unique practices and thought leadership. 
"What's great about DV," Álvarez said, "is that you'll find hundreds of people all under the same roof with very similar business objectives and ideas, from very different industries but with a reasonably wide understanding of the topics you want to cover. That's what got me into DV, the fact that I knew people would be interested in listening to my message and that I would be able to add some value to them."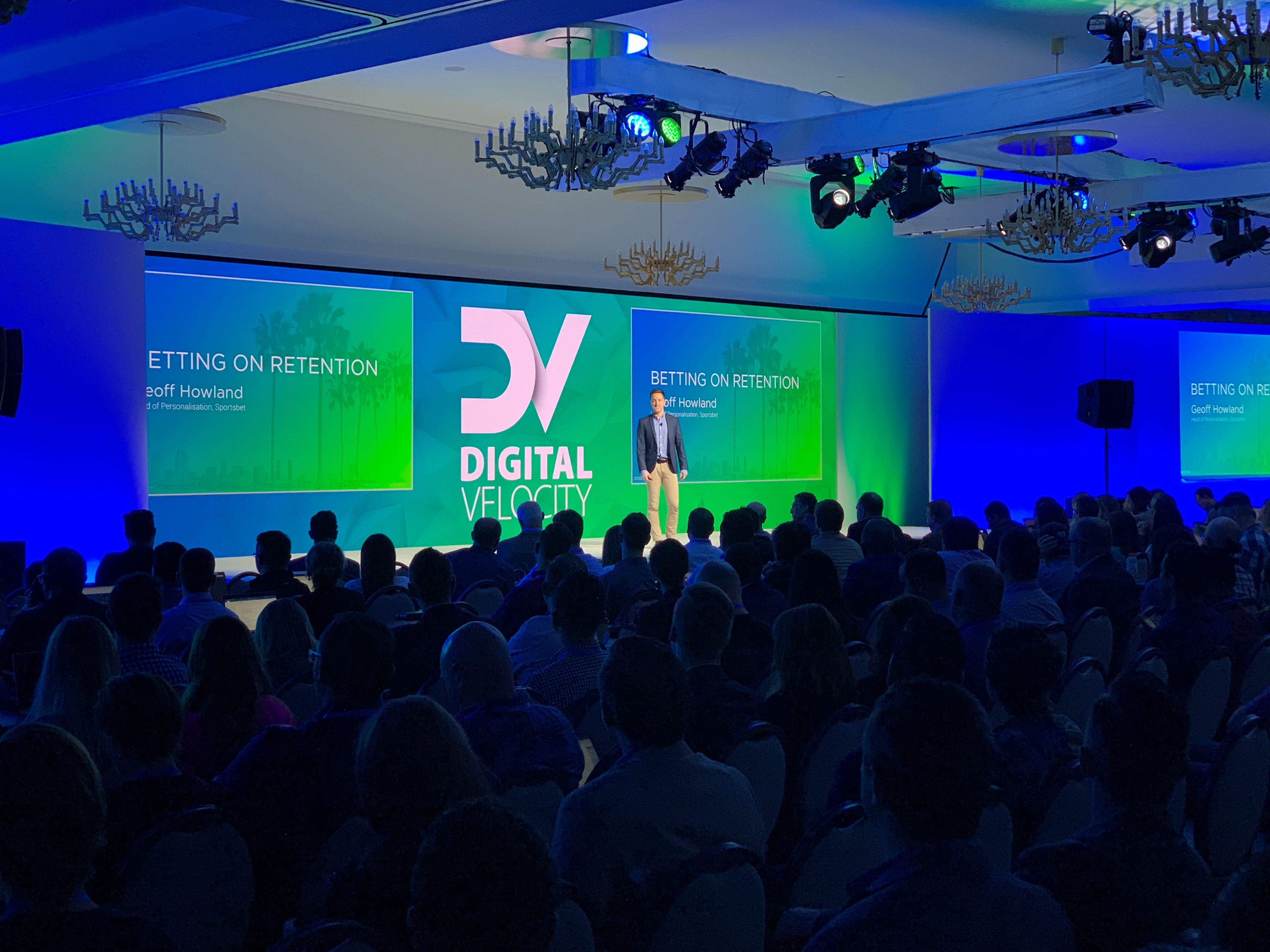 Why You Should Consider Speaking at Digital Velocity 2020
In 2020, Digital Velocity is expanding to include new tracks and more opportunities for experts to share their thought leadership and best practices. Upcoming events will feature up to four different sessions to choose from, giving you more options for how you share your story. These tracks include:
Main Stage 

Thought Leadership 

New Users of Tealium

Advanced Tealium Users 
For those considering speaking, there's a whole host of benefits, including:
Complimentary admission

Complimentary lodging 

Access to VIP area for duration of event

An excited audience of 600+ executives, marketers, IT professionals, and data scientists
Beyond the tangible benefits, you'll get the chance to share your story and build your personal brand, with the support of Tealium to help you ensure you feel prepared for your moment on stage.
"One of the favorite parts of my job," said Meredith Albertson, VP of Marketing at Tealium, "is helping our customers bring their stories to life on stage.  Our customers are some of the most innovative in the industry. We work extremely closely with all of our presenters so they feel supported and confident throughout the process."
On top of all the support you'll have from the Tealium team, past speakers will tell you how supportive the audience is as well.
"One of the most surprising things was the vibe of the crowd I think," said Geoff Howland. "It was lively, welcoming and easy to make connections across the rest of the event. The number of people who came up afterwards and said 'well done' was surprising, and shifted my thinking that a conference audience would be harsh critics. Quite the opposite – very complementary and interested in hearing more about what I presented."
Speaking at Digital Velocity can have an immediate and lasting impact. "For weeks," Johanna Álvarez said, "I kept receiving new visits to my LinkedIn profile, I've received more invites to other speaking opportunities and even some messages from recruiters."
"Using a CDP to Resolve the Brand vs. Performance Wars" with Gaurav Agarwal, Vice President of Growth, Molekule at Digital Velocity San Diego 2019
Before you sign up below, here's some salient advice from past speakers on where to begin.
Think about who is going to be listening to the presentation as you craft your idea.

Consider past presentations you've seen and what you liked about them and what you didn't like.

Include the high-level lessons alongside the in-depth knowledge.

Have a few practical examples to support your more theoretical content. 
If you think you and your team have a compelling story to share, sign up below to get the process started today.
Sign Up to Be a Digital Velocity Speaker
[pardot link="https://go.pardot.com/l/251312/2019-10-18/r6fr9z" width="100″ height="800″]