What is the California Consumer Privacy Act?
On the heels of Europe's General Data Protection Regulation (GDPR), a new regulation called the California Consumer Privacy Act (CCPA) went into effect January 1, 2020. Passed into law on June 28, 2018, the CCPA protects personal information of California consumers. The CCPA defines "consumer" as "a natural person who is a California resident."  The CCPA applies to companies worldwide who do business in California or handle California residents' personal information – making its impact far-reaching. The law will expand and enforce the rights of California consumers in several areas and businesses will be required to be extremely transparent about how they are collecting, using and disclosing their customers' personal information.
Tealium helps companies stay compliant with evolving consumer data privacy regulations like the CCPA by supplying data governance tools to help them unify their data and build a secure and governed data supply chain. As a result, organizations will be able to get a complete view of their data, manage its use and stay compliant with data privacy regulations.
Watch the CCPA Master Class Series from Tealium
Still in the midst of getting your data privacy practices ready for CCPA after the January 1, 2020 deadline? Not to fear, Tealium is here! This webinar series will take you from basics to best practices on the CCPA as well as how to get your data strategy in place.
Viewers can start with the basics of the California Consumer Privacy Act in class number one and two or they can skip straight ahead to consent management optimizations as well as how to build a data supply chain for data privacy in classes three and four.
How Can Tealium Help?
Tealium helps companies achieve CCPA compliance by providing:
A Single Point of Control for Data Collection – Capture all event data from any source in real-time with Tealium iQ Tag Management and Tealium EventStream API Hub to create a governable data supply chain
Consent Management – Easily prompt consumers to capture consent before data collection. Tealium iQ Tag Management contains an integrated consent manager with options to create CCPA or GDPR specific prompts
Data Erasure & Access – Track data flows, and establish an automated process to provide access, erasure, or portability of consumer data from all systems and integrated technologies
Identity Resolution & Customer Profiles – Use Tealium AudienceStream Customer Data Platform to stitch customer data sources together, resolve identity, create rich customer profiles, and manage data preferences at an individual customer level
Tracking –  Audit and trace the end-to-end journey of your data from collection, to business units to technologies utilizing the data
1,300+ Integrations – Ensure standardized technology deployments and mitigate the risk of custom code
Tealium Customer Data Hub also includes key features supporting data governance efforts:
Audit Data Layer Mappings – Review data flows easily with visual tool to understand where data is going and who has access
Data Layer Inventory – Reference data being collected in the data layer to understand what data is being collected and processed
Control Data with User Role Permissions & Resource Locks – Provide clear and accurate notice of data usage both internally, with policy and process, and externally, through notification
Form a Data Governance Panel Using Tealium Workflow – Implement automated internal processes to better comply with data protection regulations
Protect User Privacy with Tealium's Privacy Widget – Communicate your data policy across your organization, and to customers and vendors
Guide: How to Build a Data Foundation that Meets CCPA Compliance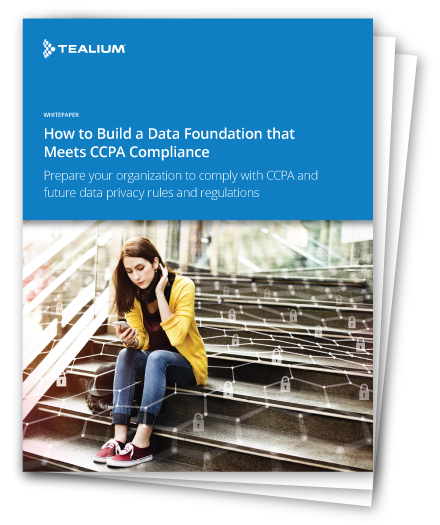 The California Consumer Privacy Act is the strictest consumer data protection law in the United States to date, and it will have far-reaching effects for companies worldwide.
The CCPA gives California consumers the right to control if and how companies collect, use, and store their personal data, which will require companies to have complete control over their consumer data. For many companies, that will mean building new processes and technologies to handle the demands of these new regulations.
Download this report and learn:
Whether your company will be affected by the CCPA's regulations
What the CCPA means for how your company collects, stores, and uses customer data
How to create a data foundation that will help ensure your company meets CCPA compliance
6 New Rights of Consumers Under the CCPA
Organizations should be aware that consumers gain new rights under the CCPA to protect their data and privacy
 The right to know what personal information has been collected and where it was sourced from and the purposes for which it is being used. The CCPA gives consumers the right to gain visibility into how businesses are processing their data. This makes establishing an end-to-end data supply chain, from collection to delivery, critical.
The right to know if personal information has been sold or disclosed (and to whom) and the categories of that information. To comply, companies will need to audit and trace the end-to-end journey of data from collection, to business units to technologies utilizing the data.
The right to equal service and price, even after opt-out. The CCPA gives consumers the right to not be discriminated against if they tell a company not to sell their personal information.
The right to access their personal information. Under the CCPA, consumers have the right to make two requests per year for access to their personal information that a company has stored over time.
The right to erase personal information. To comply with this CCPA requirement, companies will need the ability to automatically orchestrate the transmission of data throughout your company's ecosystem, audit its journey, and store its current state.
The right to say "no" to the sale of personal information. Companies will need to be able to present consumers clear and obvious opt-out choices before data collection. This means adding a "Please Do Not Sell My Personal Information" link on homepages, download pages for mobile apps, or pages that are otherwise collecting personal information.。
Do You Need More Help Understanding What CCPA Means for Your Business?
Tealium's solution consultants are knowledgeable and ready to help you strategize your data governance plan to help you get ready for CCPA.