Meet Tealium's New CEO: Jeff Lunsford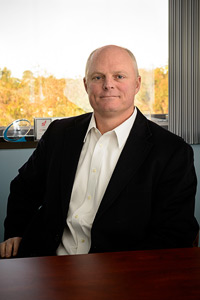 Editor's Note: The following is an interview with Jeff Lunsford, CEO at Tealium, the leader in enterprise tag management. Prior to joining Tealium, Lunsford most recently served as president, CEO and chairman of Limelight Networks, which he joined in2006 and later took public as part of a $240M initial public offering (IPO). Prior to that, Lunsford was the CEO of WebSideStory, a SaaS-based web analytics pioneer that is now part of the Adobe Marketing Cloud via acquisitions by Omniture and Adobe Systems. Altogether, Lunsford has nearly two decades of experience as a successful technology and digital marketing executive.
As a highly sought after CEO, why did you choose to work for Tealium?
Tag management is transforming digital marketing, and I saw the value from the very beginning. As the leader in the space, Tealium has shown proven ability to help customers increase their marketing agility and performance by streamlining the way they manage third-party tags. Tag management is rapidly becoming a cornerstone of enterprise digital marketing and will quickly evolve into a central hub for managing all types of digital data – that's exciting. Another reason I wanted to join is that I've been working behind the scenes at Tealium for a while now, serving on the Board of Directors helping with strategy, and then leading the company through a Series A funding round in early 2011. Nearly the entire Tealium executive team is made up of former WebSideStory executives, where I served as CEO, so I knew what we could accomplish together. So far, the team has done an amazing job, bringing in 130 new clients last year and developing what I believe is the most innovative technology on the market.
The tag management space grew rapidly in 2012 with tons of new vendors entering the marketplace, what do you predict we'll see this year?
I expect to see a few new smaller vendors in the market, but the tag management sector is mostly formed and the space is defined. Other players entering the space will only further validate the need for tag management. Tealium has been helping enterprise organizations with their most complex tagging challenges for years. We think we have the most robust TMS on the market, with clear understanding of where our clients want to go. We continue to tailor our solution to fit the needs of the digital marketer, incorporating data management and multi-platform capabilities into our platform, whereas newcomers are limited to first and second-generation technologies. Some of the world's most recognized brands adopted our TMS last year, and we will work hard to continue our success in 2013.
What differentiates Tealium from other vendors?
There are three major areas where we've seen our solution differ:
Ease of Use — We are the only team that created a solution geared toward digital marketers, as opposed to creating a CMS (content management system) for JavaScript tags. This means offering an intuitive, point-and-click interface, and turnkey integration with 350+ major online vendors. We empower marketers to easily manage their online vendors at the click of a mouse. This saves enterprise companies countless dollars and resources because it puts the marketer in control of adding and editing tags with no need for JavaScript or technical knowledge, and eliminates the bottleneck of a rigorous dev cycle.
Architecture — When our founders Ali Behnam and Mike Anderson were developing a solution, they looked at what others were attempting to do in the market, and came up with a unique methodology that delivers far superior scale and performance, while eliminating potential points of failure caused by traditional approaches. Our network performance is one reason why many global brands with multiple, high-traffic sites choose to go with us.
Data Centric – Tag management has become more than just managing JavaScript tags. Tags are really all about managing the exchange of data between an organization's site visitors and their third-party digital marketing partners. This has great implications for the data-driven marketer. We think we have the strongest foundation for this new evolution of data-centric tag management.
What's the first project you want to take on as CEO?
Knowing that our customers are satisfied and using our solution to its full capacity is a top priority, so I will be working very closely with our customer success teams to make sure their expectations are met and exceeded.
On a more personal note … you were in the military, flying F/A-18 fighter planes for the Navy. How has that experience played a role in your success in technology over the years?
It taught me how to make tough decisions quickly, and it definitely plays a role in the way I have led organizations. I plan the missions and paint the targets, focusing on strategy and delivering unprecedented results, but I let the other smart people in the organization execute the strike plan. I know command and control doesn't work in high tech, simply because Engineers hate being told what to do – the best prefer you to paint the target, and let them plan the attack. I pay attention to the needs of each department, make sure they have the tools and resources to do their job more effectively, and let them do just that.