Introducing View-Through Tracking for Tealium iQ Tag Management
Today, we are excited to announce that View-Through Tracking for Tealium iQ Tag Management is now available! This new extension in Tealium enables organizations to bring impression, campaign and creative data out of an ad server (like Google DoubleClick) and put it directly into the data layer for business use. 
The Display Ad Data Challenge 
Advertisers are always looking to gather more data about how display advertising is influencing the customer journey. Display is a big part of the marketing funnel, but as more consumers see digital advertising across a growing number of screens and sites, it has become increasingly difficult for brands to measure its effectiveness properly or use that data to personalize experiences based on campaign interaction. The data is there for businesses, but unlocking it for business value and analysis is a challenge. 
There are a few reasons why. First, it's inherently difficult to make ad server data (clicks, impressions, creative IDs, etc) meaningful enough for businesses to act on. It's also a challenge (and typically a request with IT) to tie that siloed data back to a customer profile to make it meaningful. By the time the data is ready, it might be too stale to take action on. 
Introducing View-Through Tracking for Tealium iQ Tag Management
View-Through Tracking is a new extension within Tealium iQ Tag Management that can help customers start to solve some of these challenges by enabling organizations to bring impression, campaign and creative insights out of the ad server and into the data layer. Better yet, all Tealium iQ Tag Management users can take advantage of this extension for free up to 120M tracked impressions per year. 
The View-Through Tracking extension works by building a record of all impressions served to an individual user inside of a single third-party cookie and, when that user returns to an owned property, unloading the data collected on campaigns, impressions, and creatives directly into the data layer. As with any cookie-based ad tracking, browser-level cookie limitations like ITP can diminish some customer ad tracking. However, this new extension gives Tealium users the ability to act on the ad server data that is available in real-time, rather than relying on siloed reports that then need to be tied back to the broader tech stack to use. 
After deploying the extension, organizations can begin to leverage it to track valuable insights like total impressions served to a consumer, a list of the campaigns consumers have been exposed to, or the specific creatives they've seen. 
With that data businesses can:
More efficiently analyze campaign or creative effectiveness
Reduce wasted ad spend by understanding which creatives and campaigns are most effective and which should be suppressed
Personalize experiences based on campaigns or creatives that a customer has seen
Build more complete customer profile attributes and audiences in a Customer Data Platform

like

Tealium AudienceStream

, as well as gain insight on how digital marketing is influencing the customer journey
Getting Started
Any Tealium iQ Tag Management subscriber can quickly turn on View-Through Tracking from the "Extensions" tab under the "Advanced" extensions.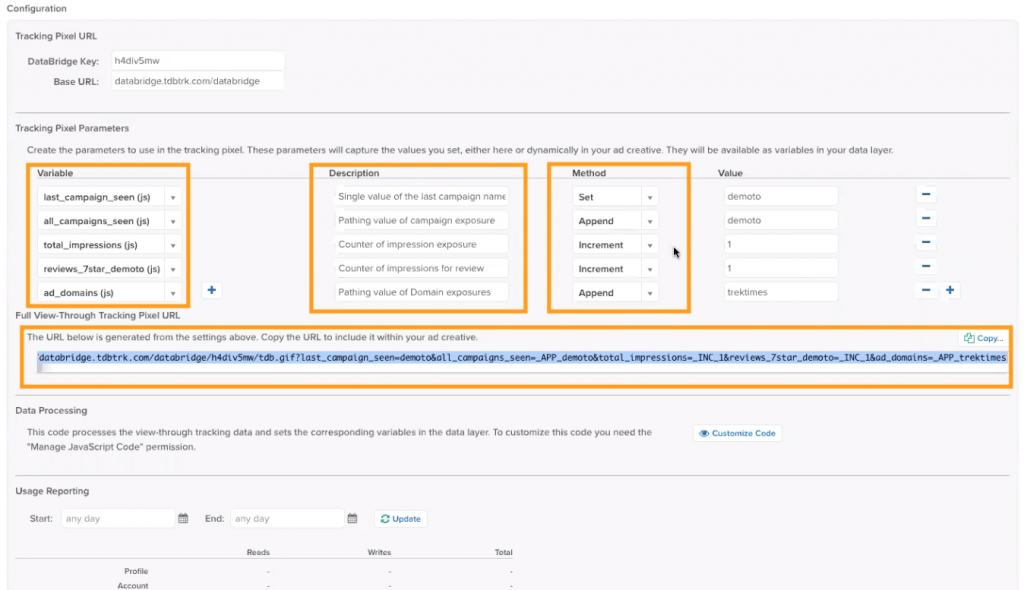 From there it's a quick process to build the parameters that you want to track like "total impressions served," "last domain visited," "last campaign seen" and more. After parameters are set, a full tracking URL will be ready for you to use and include within your ad creative to begin collecting data. 
Conclusion
We're excited for Tealium customers to get started using the View-Through Tracking extension. By utilizing valuable creative and campaign insights, organizations will be able to stay agile, create more personalized customer experiences and help better measure their return on investment in digital advertising. 
Learn More