Machine learning powered insights allowing you to predict customer behavior and take proactive action across every channel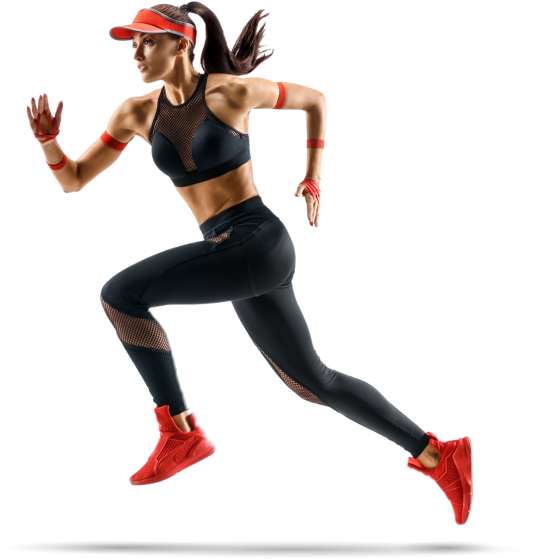 Drive Better Customer Experience and Insights
with Data-driven Predictions
Better Marketing and Experiences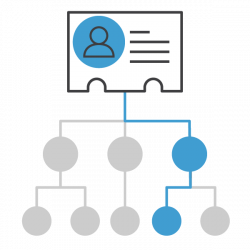 Anticipate Customer Behavior
Data about your customers' past behaviors holds clues to their future behaviors.  When you can accurately predict future behaviors, you can take action to shape them toward better outcomes. Tealium Predict ML uses the power of machine learning to predict the likelihood of any behavior you're tracking in Tealium AudienceStream Customer Data Platform.
Now you can anticipate when a customer will make a purchase and take action to increase revenue. Or identify prospects who won't purchase and suppress them from advertising to save costs. The possibilities are endless!
Better Insights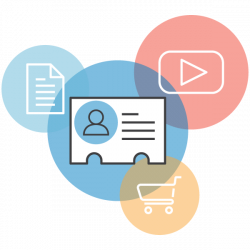 Learn What Data Points are Predictive
Tealium Predict ML shows you exactly which customer data points are used by your custom-tailored models to create predictions, as well as how important each data point is to the prediction. By getting insights into the most important behaviors you can craft better customer experiences that more effectively support your goals.
When predicting a purchase, for example, you might see that a particular video view, or offline interaction is critical. Or if predicting cart abandonment, you might see a particular device overly represented, implying there may be a bug. Armed with these insights, you can take action to produce better results.
Operational Efficiency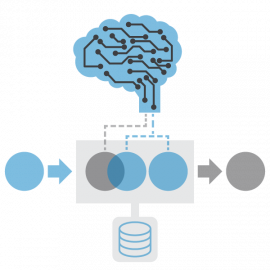 Machine Learning Insights "In-Line" with Your Customer Data Supply Chain
Machine learning projects are notoriously resource-intensive. Even if you have a good model, it can be hard to feed it enough high quality data. Once you figure that out, it can be even more time-consuming and difficult to activate those insights so they're actually benefiting your customers.
Tealium Predict ML coupled with AudienceStream CDP is the lowest cost and lowest risk way to simultaneously solve these challenges. Predictions simply become another data point in the customer profile that can be activated using our industry-leading integration marketplace. All of a sudden, machine learning capabilities are sitting in-line with data collection and activation, powering your whole tech stack.
Machine Learning That's Marketer-friendly and Data Scientist Powerful
No Black Boxes
Unlike most ML-powered customer insight tools, Predict does not just generate a number that you have to trust on faith. Scores from Predict give you full visibility into strength, attributes used, attribute weighting and more.
Configure your model based on your own goals and then use the scores to drive action all in the same platform.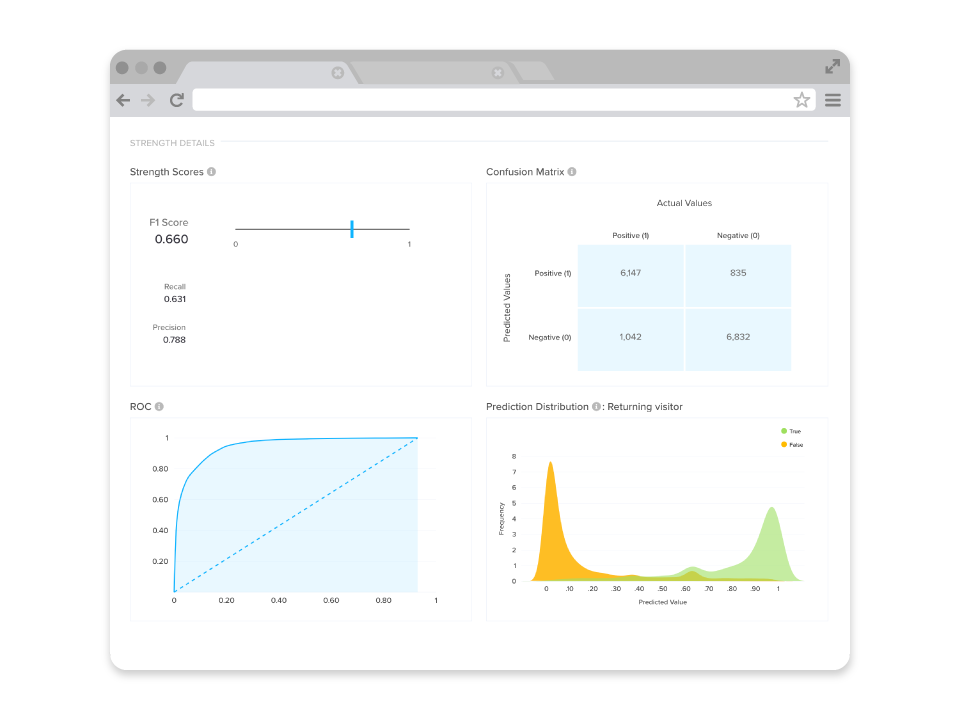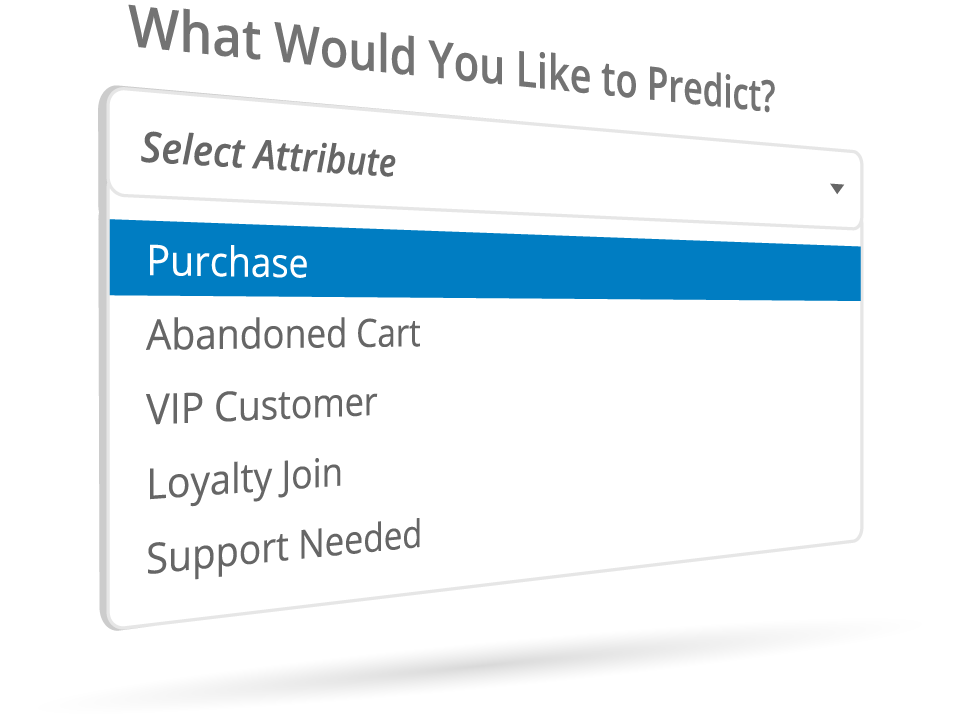 Predict Any Event
Predict any event that you have tracked in Tealium AudienceStream CDP. You choose from what's important to you, not pre-defined by us. Choose anything including a purchase, cart abandonment, subscription lapse, VIP status, call center calls, etc. If you hooked up the data, you can predict it.
Then, target customers based on the score. Want to make them a special offer? Now you can. Want to suppress them from certain campaigns? You can do that too. Use predictions to target only the sweet spot of customers to drive improved performance, reduced costs, and operational efficiency.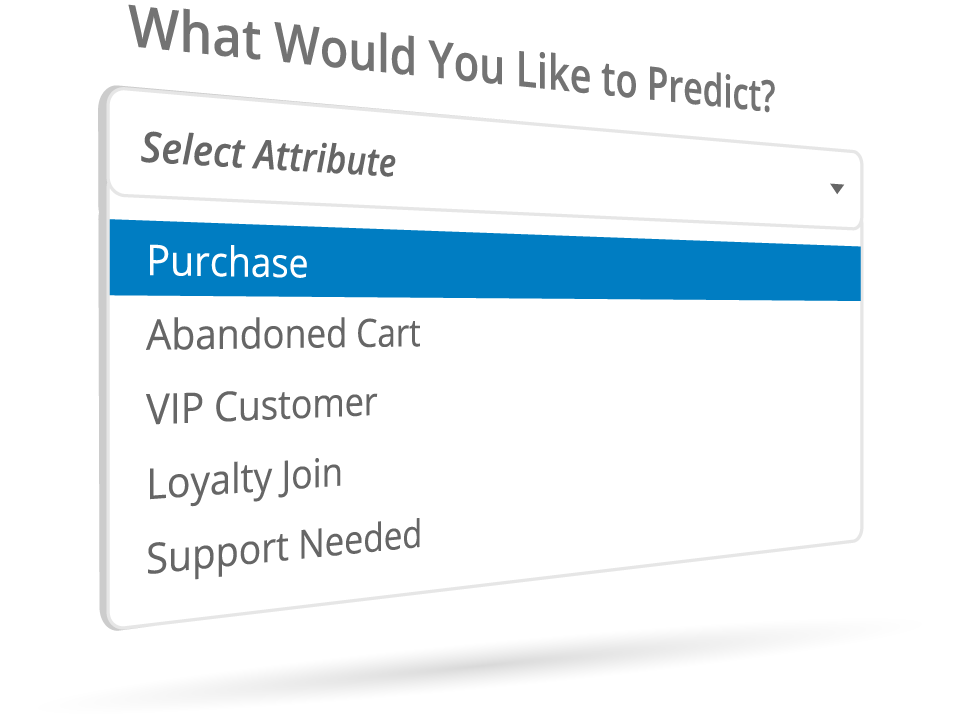 Launch a Model in Under 5 Clicks
A simple, easy-to-understand UI that enables anybody, even if you're not a data scientist, to create a model that predicts customer behavior. Create, train, fine-tune, and activate a model directly driving CX actions in under 5 minutes.
The Predict score becomes another data point in the customer profile at the end of every visit. The score is available for use in real time to trigger actions in any integrated system from our 1,200+ vendor integration marketplace.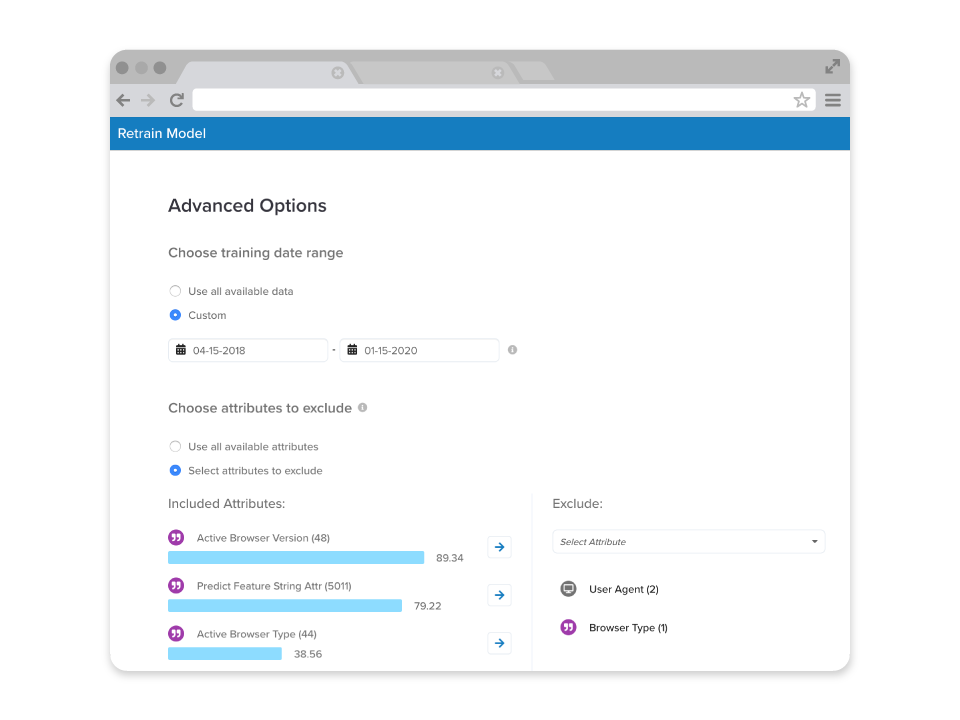 Advanced Configuration
For those more sophisticated with data science, dive into the details on model strength, F1 score, date ranges, included and excluded attributes, etc.
Tealium Predict is a quick and easy way to access a high volume of high-quality data for modeling, in-line with data activation, solving the major pain points of most machine learning projects.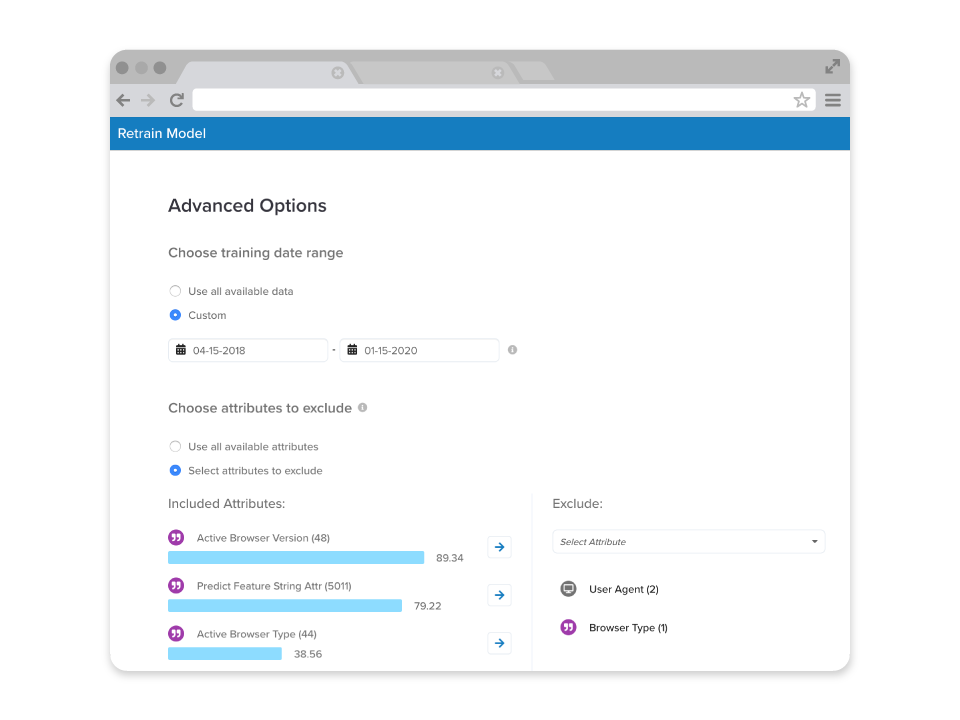 See What Behavior is Predictive
Data-driven insights on the customer behaviors that drive results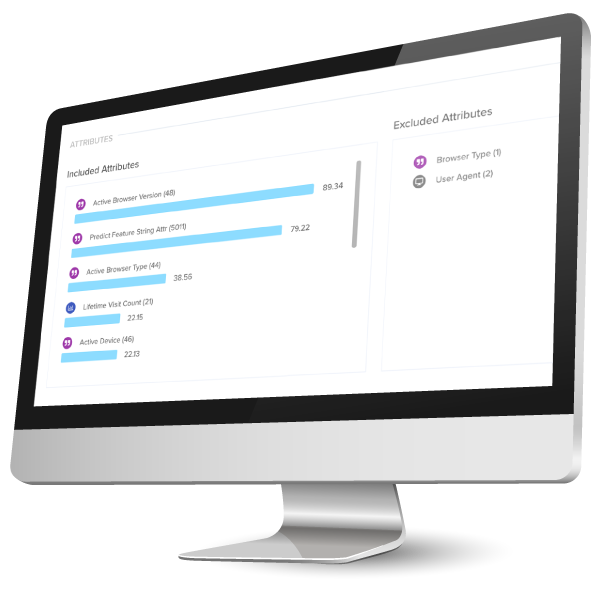 Manage the most comprehensive and flexible customer dataset with Tealium's industry-leading integration marketplace

Solutions to Key Business Challenges
Use Tealium Customer Data Hub, including Predict ML, to solve common business challenges
Data Infrastructure
Tealium infrastructure gives the capability to collect a high-quality dataset to fuel machine learning insights and the integrations to activate them, all in one place.
Customer Data Hub
Machine learning insights are dramatically more valuable when included within comprehensive customer profiles configured to trigger cross-channel action.
Mobile Data
Customer data from mobile devices is critical. Most solutions are mobile-specific, creating yet another silo and CX headache. Tealium gives you options.
Data Warehouse or Data Lake Integration
Many machine learning projects integrate with an EDW or data lake. Tealium's combined solution closes the gap between insight and action.
ML-Powered Customer Data Platform
Combining the insights of machine learning predictions to the engagement power of a CDP amplifies CX

See How it Works
Get the nitty gritty details about how the Tealium CDH works by checking out our documentation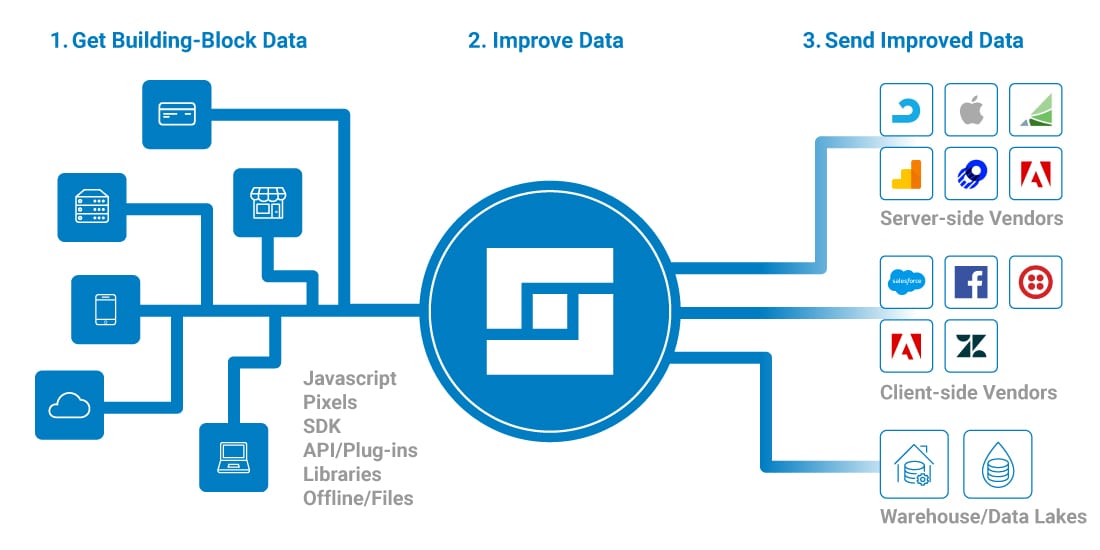 Need Anything Else?
Get in touch and we'll help you with whatever you need