Integrate Data for Delivery
Having a strong understanding of your user is valuable. Automating that understanding into customer experience action is priceless.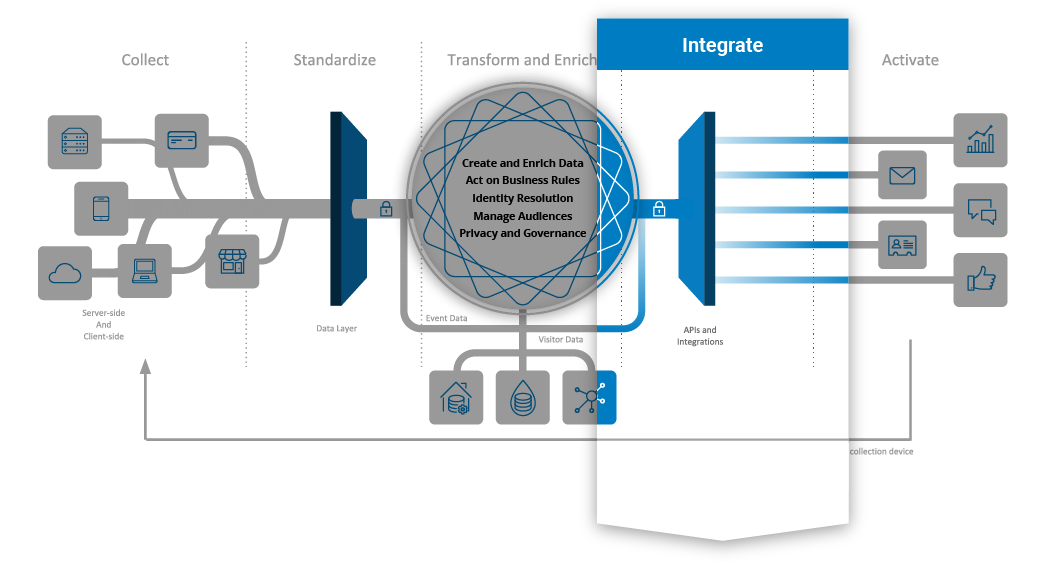 After data has been collected, standardized, then transformed and enriched with Tealium AudienceStream you have a real-time view of your customer ready for action. This view can leverage visitor or event-level data and be activated via client or server-side through integrations.
Industry-Leading Integration Marketplace Makes it Easy
The more places your data is connected, the more value can be driven from that data. Tealium's 1000+ turnkey integration marketplace is unparalleled in the industry, empowering a more comprehensive data supply chain than any other platform.
Client-side and Server-side Infrastructure Gives You Options
Deliver data to downstream systems as needed or choose based on business needs. There are scenarios where client-side or server-side data management is advantageous. Have the tools to make the choice that's right for you.
Stream Data to Third-Party and Internal Systems
Send all or a subset of your data to any system of your choice in real time. Utilize tags, pixels, SDKs, APIs/plugins, libraries, or CSVs/omnichannel imports to integrate data in any way needed.
Customer Testimonial
How Epson Segments Once Across the MarTech Ecosystem
Scott Sturcke and Nick Huang of Epson America discuss how Tealium has empowered Epson America to own their customer data and segment once across their entire MarTech ecosystem, allowing them to future-proof their tech stack and think globally.
Like what you see?
Let us show you more and answer any questions you might have about your specific needs during a customized demo.