Social Media Measurement is Here
We're proud to announce the general availability of Tealium Social Media, a new measurement service for social media and online PR that's tightly integrated into web analytics. The service is designed for marketing professionals who use social media and online PR as marketing vehicles to generate awareness and demand, and require side-by-side comparison with other marketing channels.
For a review of Tealium Social Media, please visit this blog posting by PR measurement guru, KDPaine.

How does it work? Consider this scenario:
A visitor is in the market for CRM software and comes across a blog comparing various CRM programs. The blog mentions a number of CRM applications that the visitor had no previous knowledge of, including SugarCRM and NetSuite. Because of the great feedback in the blog, the visitor decides to go to SugarCRM by doing a search for "sugar crm" on Google. This leads the visitor to sugarcrm.com, where the visitor requests a personal demo.
With traditional web analytics, this conversion would be attributed to Google. With Tealium Social Media, the conversion will also be attributed to the original blog that started everything.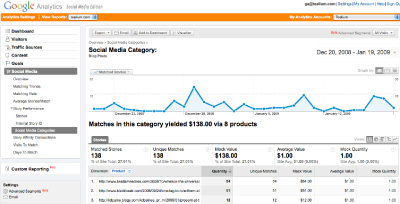 Tealium Social Media is a web analytics plug-in that is integrated into popular web analytics solutions: Google Analytics, SiteCatalyst, Unice NetInsight, WebTrends, Coremetrics, etc. This means you can get your social media ROI measurement directly inside your existing web analytics account.
Intrigued? Request a demo.